Board Update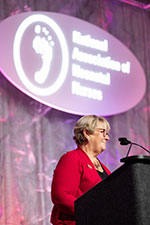 Joan Rikli, MBA MSN RN CPNP-PC NE-BC
President of NANN
I am truly honored to serve you as president for the next two years and am grateful for the opportunity to give back to the organization that has meant so much to me. NANN has been an important contributor to my professional development as a neonatal nurse and nurse leader. I began my involvement with NANN as a member of the fledgling Southeast Michigan chapter back in the early nineties. My first opportunity to present at a conference was through this chapter. I accessed the journal frequently and learned via networking from other neonatal nurses involved with NANN to add to my clinical knowledge base. I began volunteering at the national level in 2007, acting as a liaison between NANN and the Vermont Oxford Network for the nurse staffing study. I have had the privilege of sitting on the board of directors since 2012, as director-at-large, secretary treasurer, and president-elect. Through involvement with NANN, I have met and learned from influential neonatal nursing leaders, have been challenged to grow in my leadership skills, and have developed greater confidence and competence as a result. It is my goal to ensure that NANN continues to be a vehicle for achieving your professional goals and receiving support for the excellent care you provide to precious babies and families.
Just a month ago, our neonatal nursing community had the opportunity to gather for NANN's 34th Annual Conference in Anaheim, CA. As our conference hashtag indicated, there's no doubt that Anaheim truly became #NANNAHEIM while we were there. Nearly 1,000 attendees joined us in Southern California for our most successful meeting since 2010. We kicked things off with local parents (and babies!) sharing personal stories at our opening general session. We followed hundreds of attendee social posts detailing all the special conference touches, exciting educational topics, and meaningful attendee experiences. We also learned how much neonatal nurses love a party with a fun theme and a great DJ. A great time was had by all.
A special thank you goes out to NANN's Program Planning Committee, led by Heather Goodall, and to the NANN staff for delivering a truly memorable conference experience! Stay tuned for more information and some southern charm at next year's conference in Savannah, GA, October 9–12, 2018.
As we look toward NANN's future, our strategic plan is top of mind. Guided by our mission, vision, and purpose, NANN is actively pursuing objectives within five strategic domains: education and professional development, setting the standard of care, advocacy and awareness, leadership, and community. We believe a fine-tuned focus on these domains will evolve and deepen NANN's role as the professional voice that shapes neonatal nursing through excellence in practice, education, research, and professional development.
As we dive deeper into each domain, our objectives, strategies and tactics are taking shape. In the coming months and years, we'll be able to share more offerings, experiences, and opportunities with our members than ever before. I'll be sharing these details with you as they are determined. It's a very exciting time to be a NANN member!
For almost 35 years, NANN has supported its members and the neonatal nursing community by shaping nursing practice, education, research, advocacy, and professional development. As a NANN member for over 20 years, I am truly honored to serve as NANN's next president. Great opportunities lie ahead for NANN and neonatal nurses all over the world.
Our Sponsor