Neonatal Nurses Week—Celebrating You!
Established in 2000 by the National Association of Neonatal Nurses (NANN), members of the neonatal community use this time to honor nurse colleagues and show pride in being a neonatal nurse or neonatal APRN. In 2019, NANN expanded the celebration from one day on September 15, to an entire week during the month of September each year.
Neonatal Nurses Week provides an opportunity to celebrate the hard work and dedication of neonatal nurses and APRNs. The contributions of these health care workers to the tiniest patients make a difference that lasts a lifetime for neonates and their families.
2021 Neonatal Nurses Week: The Second Year of the Nurse
Following the challenges for healthcare workers in 2020 related to the global pandemic, the World Health Organization extended the Year of the Nurse celebration for a second year. Nurses all over the world continue working tirelessly to save the most fragile neonatal lives, work closely with patient families, and advocate for the neonatal nursing profession. Especially during these unprecedented times, we are thrilled to showcase the meaningful and impactful neonatal nursing profession throughout NANN's weeklong celebration, Monday, September 13 through Sunday, September 19, 2021. This year is a special celebration as NANN's Virtual 37th Annual Conference takes place during Neonatal Nurses Week! and join us!
How can you celebrate Neonatal Nurses Week?
Celebrate Your Peers with a Simple Video
As part of this year's celebration, we're collecting and showcasing videos that celebrate neonatal nurses and APRNs! Our video collection platform provides a quick and easy recording experience that can be done on any device. View our Neonatal Nurses Week Celebration Gallery to see videos submitted by your peers and to add your own 60-second video to our gallery of gratitude!
At NANN's Annual Confererence
Snap a picture of you and your peers at work on the unit or out celebrating Neonatal Nurses Week together and share the image in our conference photo contest and WIN!
In Your NICU
Help raise awareness of your special week! Download the 2021 Neonatal Nurses Week Poster to share in your NICU to celebrate Neonatal Nurses Week.
2021 Neonatal Nurses Week Poster
On Social Media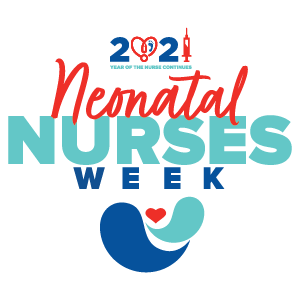 NANN encourages all nurses to download and share our Neonatal Nurses Week graphic on Facebook, Instagram, or Twitter and use the hashtag #NeonatalNursesWeek.
Download the 2021 Neonatal Nurses Week graphics
Congrats to our 2020 social media contest winners:

Future Neonatal Nurses Week Celebration Dates
Neonatal Nurses Week will be celebrated during the following dates over the next several years:
2022: September 12-18
2023: September 11-17
Interested in learning more about how NANN provides neonatal nurses and APRNs with a supportive, engaging, and vibrant professional community and access to unmatched resources? Visit our membership page today!