Board Update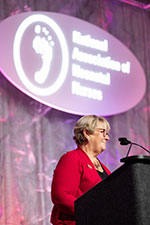 Joan Rikli, MBA MSN RN CPNP-PC NE-BC
NANN President
Just over a month ago, our neonatal nursing community had the opportunity to gather for NANN's 35th Annual Conference in beautiful Savannah, GA. We were so excited about this Southern destination and you were as well, as nearly 950 neonatal nurses and advanced practice nurses turned the town into #SaNANNah. We celebrated our profession and the numerous achievements of our neonatal nursing colleagues, we learned from the best and brightest, we laughed and danced, and we took in endless education and information to bring back to our home units. We left reinvigorated and recharged, and a great time was had by all.
A special thank you goes out to NANN's Annual Conference Committee, led by co-chairs Mary Puchalski and Becky Buchholtz, and to the NANN staff for delivering a truly memorable conference experience! Stay tuned for more information about our next celebration, when we'll head to one-of-a-kind New Orleans, September 23–26, 2020. While there, we'll also celebrate the 20th anniversary of NANN's journal, Advances in Neonatal Care. Please mark your calendars, because it's sure to be an amazing experience!
As we shared at the NANN business meeting at conference, NANN's future is bright. We are making great strides toward our goal of building the organization's reserves, the critical funds that will allow us to move forward with meaningful components of our strategic plan. Through E-News this past year, we've shared how NANN is actively pursuing objectives within five strategic domains: Education and Professional Development, Setting the Standard of Care, Advocacy and Awareness, Leadership, and Community. We believe a fine-tuned focus on these domains will evolve and deepen NANN's role as the professional voice that shapes neonatal nursing through excellence in practice, education, research, advocacy, and professional development.
This year, we've experienced several achievements in standard setting. We have conducted product audits, identifying those ready for revision. We will release NANN's Safe Sleep Guideline toward the end of 2019, have begun work on a Thermoregulation Guideline, and have taken early steps toward a new edition of our Developmental Care book. We are in partnership with the American Nurses Association on a new Scope and Standards of Neonatal Care, planned for release in late 2020. We have also identified critical topics for upcoming NANN position statements.
For nearly 36 years, NANN has supported its members and the neonatal nursing community by shaping nursing practice, education, research, advocacy, and professional development. Meeting and celebrating with so many of you at conference last month has left me feeling connected to each and every one you and so excited about the work we'll do together for our profession and patients in the coming year. It's a wonderful time to be a NANN member!
Our Sponsor