Board Update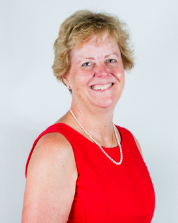 Gail Bagwell, DNP APRN CNS
NANN President
Happy summer, NANN fans! I hope you're finding a way to get some much-needed rest and relaxation during the season and finalizing your plans to join us in person in Las Vegas this September 14-17. I know I speak for all NANN leaders when I say we simply can't wait to see you this fall. Actually, I'll let the leaders speak for themselves!
The in-person NANN Annual Conference is THE neonatal nursing meeting of the year and one not to miss! Throughout the summer, we've added exciting new sessions on trending topics, like the latest on the criminalization of nurses, steps to banish burnout, leadership during the pandemic, and so much more. We'll stay at the recently renovated Paris Hotel & Casino in the heart of the Vegas strip. We'll experience engaging networking events with our peers and in our preferred educational tracks. And we'll dance the night away at NANN After Dark, celebrating our first time together in far too long. It is surely going to be a week to remember. And don't forget, all full registration attendees can access all sessions – that's more than 55 CE – through December 2022!
However, we know travel may not be in the cards for everyone this fall, so if you can't make it, check out our virtual option. Select sessions will be livestreamed allowing our virtual and live audiences to connect via the conference chat. All sessions will be recorded for on-demand watching as well, so you won't have to miss a thing.
Are you having a hard time justifying time off to your manager/supervisor or finding funding to attend the conference? Check out our toolkit for both in-person and virtual conference attendance. Pick the option that's best for you, but register by Monday, August 1, 2022. That's the very last day to register at Early Bird rates. Save $50 more per member by registering a group of members online or via our mail-in registration form. NANN is committed to making attendance as affordable as possible.
While we are all diligently working to deliver the very best conference experience, there's much more work being done at NANN. If you haven't visited yet, our new learning management system, iLearn, is a must-see! This new e-learning hub is your one-stop shop for all NANN education with nearly 200 education products at your disposal. NANN members have access to several free modules; search the word "free" in iLearn and give one a spin. Look at how we've broken out our popular Policies, Procedures, and Competencies of Neonatal Nursing, 6th edition into individual modules for custom access via iLearn and for new educational items to be added regularly. Next up, our brand new RNC Review Course, scheduled to come out by the end of the year!
As always, I am grateful for each one of you and your commitment to your profession, your patients, and our association. Each of you add something special to our collective voice at NANN and I encourage you to find new ways to get involved in the coming year. Why not start with conference? Hope to meet you there!

Our Sponsor