Association News
NANN Holiday Sale!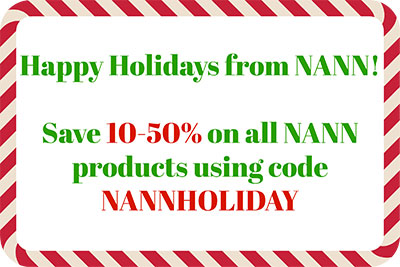 Happy Holidays from NANN! This December, we're celebrating the joy of the season with holiday discounts you don't want to miss. Whether you're shopping for your unit or your personal library, it's time to stock up on all your favorite NANN products:
Policies, Procedures, and Competencies for Neonatal Nursing Care: 50% off
Navigator Mentoring Program: 50% off
Developmental Care of Newborns and Infants: 20% off
Core Curriculum for Neonatal Intensive Care, 5th edition: 20% off
Neonatal Nursing Transport: Guideline for Practice, 3rd edition: 20% off
Neo Care Cards: 20% off
Everything else in the NANN store is 10% off! Use code NANNHOLIDAY to save! Code expires at 11:59 pm CST on December 31, 2017.
Refer New NANN Members and Reap the Rewards!
Because of referrals from members like you, NANN is striving for growth in 2018! Thank you for sharing kind words about NANN with the neonatal nurses in your unit and network. We're showing our gratitude in two big ways:
Annual Drawing for a Free NANN Membership. For every new member you refer who joins NANN, you'll be entered in our annual drawing each December for a free NANN membership!
$100 Amazon Gift Card. For every five new members you refer who join NANN, you'll receive a $100 Amazon gift card. Gift cards are sent out quarterly.
Referring a new member is simple. Sign in to My Account and select "Refer a Friend." Enter your friend's email address to send them a referral email introducing them to NANN.
Referral tools make it easy. Download posters, flyers, talking points, and even presentations from NANN's Member Recruitment Toolkit. Use these materials to help nurses in your unit, community, or peer group understand the benefits of belonging to NANN. When they join, be sure they enter your name and email address!
Neonatal nurses who join together save. New group membership discounts allow new members to join NANN at reduced pricing. While registering, all group members can list you as a referring member, boosting your referral rewards! Learn more about group memberships.
2018 Individual Awards—NOW OPEN
Each year, NANN recognizes the outstanding contributions of individuals practicing in neonatal nursing. Whether they are clinical practitioners, educators, or researchers, NANN is dedicated to honoring the achievements of those who are advancing the field of neonatal nursing.
These awards are designed to recognize the contributions and dedication of neonatal nurses and neonatal nurse practitioners. To be considered for these awards, candidates must be a NANN member in good standing and nominated according to the specific award's nomination procedure. Award winners receive complimentary registration to the 2018 Annual Conference, a $500 stipend to be applied to hotel and travel costs, a $250 honorarium, and a trophy.
Learn more about the awards and nominate a nurse today!
Interested in applying for a 2018 chapter award? Stay tuned! Chapter awards will be announced soon.
2018 Nurse in Washington Internship (NIWI) Scholarships
Are you interested in learning about advocacy and the legislative process? Hone your skills at the 2018 Nurse in Washington Internship, March 11–13, in Arlington, VA. Attendees of this 3 day program will
learn how nurses can be involved and influence policy at the local and national level
discuss how to work effectively with legislative staff to advance policy agendas
learn key steps to effect change in the legislative process
identify techniques to advance legislative issues at the grassroots level
identify legislative, political, and economic forces driving healthcare policy and delivery changes today
learn the process for scheduling Capitol Hill meetings.
NANN will award scholarships to two nurses to attend this event. Scholarships will cover the meeting registration fee and travel, lodging, and meal costs. The deadline to apply is January 5, 2018.
Apply now!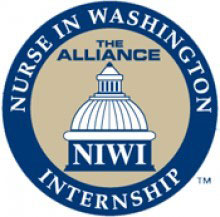 2018 NICU Leadership Forum Scholarship
Leadership in today's NICU requires knowledge, creative thinking, and problem solving to confront increasing regulatory, business, and personal challenges. The NICU Leadership Forum (NLF) provides practical solutions to help you navigate these challenges while allowing you to network with your fellow NICU nursing leaders.
NANN is offering five scholarships ($699 value each) to attend the NICU Leadership Forum from April 22–26, 2018, at the Marriott Sawgrass in Ponte Vedra, FL. The deadline to apply is January 18, 2018.
Our Sponsor