Board Update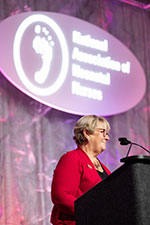 Joan Rikli, MBA MSN RN NE-BC CPNP-PC
NANN President
What strange and challenging times we are experiencing.
As the awakenings of spring and promise of summer days come upon us, we are sheltering in place, working in institutions battling on the front lines, and also being impacted greatly by fewer non-COVID-19 patients, procedures, and surgeries.
But deliveries don't stop and our NICUs remain active, with the added challenges of mothers who have COVID-19 or limited visitation, and new technologies that allow parents to stay connected to the neonates in our care.
This certainly doesn't feel like the International Year of the Nurse. I've joked about that myself and seen the memes on social media that poke fun at this year, which feels anything but celebratory. However, I'd like to challenge that thinking just a little bit and ask, "Has any year ever been more the Year of the Nurse?" We're witnessing incredible demonstrations of gratitude for nurses and other healthcare workers. We're seeing support and compassion between colleagues across institutions and systems and on social media. We're marveling at the creativity and ingenuity shared by those in our profession in unimaginable situations. I have never been prouder to be a nurse.
NANN has been working hard behind the scenes to provide resources to help neonatal nurses during this time.
If there's one thing I have learned in 2020, it's that we are stronger together. Now is the time to lean into our community of neonatal nurses around the globe, to lift each other up and support one another, and to work together as we define a new normal in the coming year.
The time and talent you share with NANN do not go unappreciated—NANN is special because of each of our members. Thank you for all you are doing and know that NANN stands beside you.
Our Sponsor