Feature
Active Cooling on Neonatal Transport: Updates and Insights
Beth Diehl, DNP NNP-BC CCRN® LNCC®, and Hope McKendree, MSN NNP-BC CRNP
Perinatal hypoxic ischemic encephalopathy (HIE) affects 12 term neonates per 1,000 live births and can lead to poor neurodevelopmental outcomes as well as mortality (Bourque et al., 2018). The literature shows that therapeutic hypothermia is most efficacious in infants with moderate to severe HIE, prompting improved outcomes and survival (Lumba, Mally, Espiritu, & Wachtel, 2018). When initiated in the first 6 hours of life, therapeutic hypothermia is considered the gold standard for providing neuroprotection in the neonate born with HIE (Stafford, Hagan, Sitler, Fernandes, & Kaiser, 2017).
Therapeutic hypothermia typically is provided in level III and/or IV neonatal intensive care units (NICUs), such as Johns Hopkins Hospital and the University of Maryland Medical Center, which support the Maryland Regional Neonatal Transport Program (MRNTP). Therefore, neonates born with HIE at level I and II NICUs across the United States must be transported to a higher-level facility that can provide therapeutic hypothermia secondary to the need for subspecialty support, which includes, but is not limited to, neonatology, neurology, and state-of-the-art neuroimaging (Stafford et al., 2017).
Passive cooling should be initiated at the lower-level NICU when it is suspected that an infant may have HIE and be in need of active cooling. However, passive cooling often is ineffective because it can lead to overly elevated or excessively low body temperatures and adverse outcomes (Stafford et al., 2017). It is important to initiate active cooling as soon as possible. This should be accomplished within the first 6 hours of life to prevent further brain injury. Accordingly, providing this therapy during transport is prudent. It is imperative to control temperatures more consistently to achieve optimal neuroprotection with minimal side effects.
Statistical Data
The MRNTP serves approximately 30 hospitals in Maryland and performs 800-plus transports per annum. The program began recommending passive cooling to referral centers when criteria necessary for recommending a new process was met in June 2007 and began applying active cooling in August 2017.
The following table documents the arrival temperatures of passively cooled infants versus those who underwent active cooling during transport.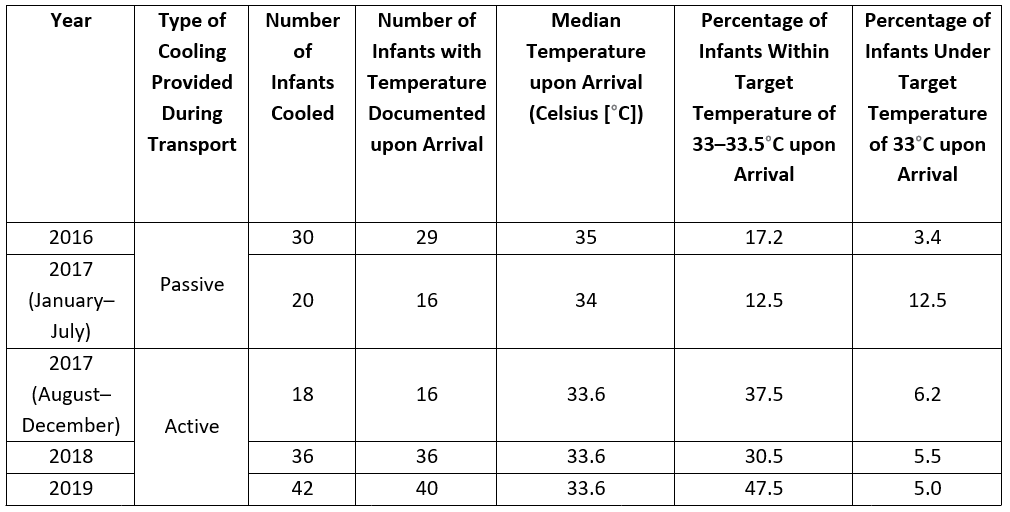 Equipment Used
The MRNTP team uses a commercial hypothermia system for transport called Tecotherm Neo. The Tecotherm Neo is compact, allowing the device to be secured on a ground or flight incubator and attached to a power source. The central unit connects to a plastic cooling blanket that can be filled with pretreated sterile water and enclosed in a light fabric cover. A rectal probe is inserted in the neonate and connected to the hypothermia system. The blanket then provides cooling to the preset temperature of 33.5°C, with continual feedback on core body temperature coming from the rectal probe.
The Tecotherm Neo lacks an internal battery, one notable disadvantage of the system. This becomes problematic when the incubator must be unplugged to move the patient from the referral facility's nursery to the ambulance bay for transport and from the ambulance bay to the accepting center's NICU.
After use, the system is wiped down with hospital-grade disinfectant prior to the next use. The blanket must be refilled periodically with sterile water, and the disinfectant tablets for the water expire 30–60 days after use. The Tecotherm Neo is able to track cooling data that can be downloaded for later analysis.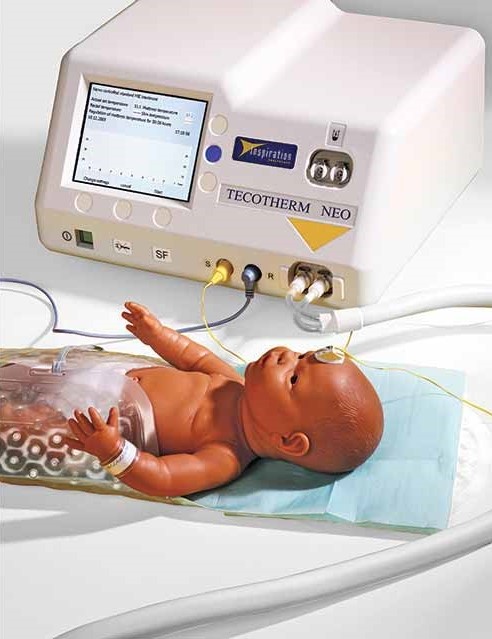 Tecotherm Neo. © International Biomedical, 2020.
Nursing Care Protocols
For a patient receiving passive cooling at the referral center or active cooling during transport, complete vital signs are noted and recorded every 15 minutes. The security of the rectal probe is frequently checked, and the infant's neurological and cardiorespiratory status is monitored. The transport team leader provides the patient's family with information regarding the hypothermia protocol, expected duration of therapy, and purpose of the therapy.
Shivering may occur during active cooling, and morphine can be given to the neonate for comfort. A primary complication of therapeutic hypothermia is prolonged clotting times and a decrease in platelet aggregation. Because of this, it's important to carefully monitor for oozing blood from the umbilical stump, an indwelling invasive catheter, or any puncture site and to report any bleeding to the medical control physician.
Conclusion
The availability of commercial cooling systems to provide therapeutic hypothermia during infant transport has decreased the nursing workload and minimized the potential for adverse events.
The placement of the infant on the cooling blanket at the time of the transport team arrival has a threefold benefit. It
allows for an earlier transition from passive to active cooling at the referral center
prevents inadvertent overcooling during the passive cooling phase
achieves and maintains the infant's core temperature with minimal variation.
In addition, the rectal probe provides a continuous readout of core body temperature, eliminating the need to obtain axillary temperatures every 15 minutes and decreasing the frequency of care manipulations.
These benefits lead to improved outcomes for infants experiencing HIE requiring therapeutic hypothermia.
References
Bourque, S. L., Meier, S. A., Palmer, C., Melara, D. L., Grover, T. R., & Delaney, C.A. (2018). A quality initiative for optimal therapeutic hypothermia during transport for neonates with neonatal encephalopathy. Pediatric Quality and Safety, 3(2), e056.
Lumba, R., Mally, P., Espiritu, M., & Wachtel, E. V. (2019). Therapeutic hypothermia during neonatal transport at regional perinatal centers: Active vs. passive cooling. Journal of Perinatal Medicine, 47(3), 365–369.
Stafford, T. D., Hagan, J. L., Sitler, C. G., Fernandes, C. J., & Kaiser, J. R. (2017). Therapeutic hypothermia during neonatal transport: Active cooling helps reach the target. Therapeutic Hypothermia and Temperature Management, 7(2), 88–94.
Interested in learning more about neonatal transport?
Check out our neonatal nursing transport guidelines
Our Sponsor