Board Update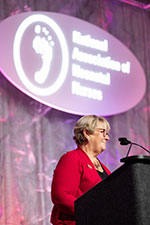 Joan Rikli, MBA MSN RN NE-BC CPNP-PC
NANN President
These are certainly unprecedented times. Who would have guessed that when we first heard of the coronavirus in late winter that we would remain in the middle of this all-consuming pandemic well into the summer? The impact of this health crisis and its ripple effects will surely be felt for years to come. We know many of you are struggling, tired, and overworked while helping in new ways and keeping life running on the home front, too. We're thinking of you and cheering you on.
For NANN, this time has meant rethinking our offerings and benefits to ensure that neonatal nurses have what they need delivered in affordable and safe ways. Travel restrictions, safety guidelines, and limited funding have led to the rescheduling of our Research Summit, the cancellation of our Delegation to Morocco, and most recently to re-envisioning the NANN Annual Conference. After surveying neonatal nurses and learning about your needs and preferences, we are thrilled to offer the NANN Virtual Annual Conference this October 21–23, 2020.
I am so proud of the efforts that have allowed us to bring this opportunity to you digitally, with more than 40 hours of CNE, at less than half the price of live conference registration. And the best part? You can join us live for the NANN Virtual Annual Conference or watch sessions on demand through March 1, 2021. There has never been a more affordable or convenient way to experience a NANN conference.
With so many unknowns related to the coronavirus pandemic, a virtual meeting is the safest way for us to convene and connect this year. We hope you'll register today to join us virtually for an amazing lineup of speakers addressing important topics, opportunities to meet with industry leaders, and innovative ways to network, connect, and recharge with your neonatal nursing peers. We're working hard behind the scenes to ensure that you leave feeling that special NANN conference connection in the digital setting. It may be different, but it will be great!
Stay tuned into NANN communications for updates on the conference, tips for making the most of your experience, and updates related to COVID-19 and its impact on our patients, units, and profession. We're here to help, so don't hesitate to reach out to us at This email address is being protected from spambots. You need JavaScript enabled to view it. if there's something specific you feel NANN can do to assist during this time.
Thank you for all you do each day to care for your patients, your peers, and yourself. We'll get through this together. Stay well.
Our Sponsor