Association News
2017 Small Grants Program: Apply Before March 31 Deadline!
The Small Grants Mentee/Mentor Program is accepting applications from NANN members interested in developing their research skills or initiating their own research study or evidence-based practice (EBP) project. Submit your grant application before the deadline on Friday, March 31, 2017, at 3:59 pm CST.
2017 NANN and NANNP Awards Nominations Open
It couldn't be easier to recognize your neonatal nursing peers than with NANN's awards program. Nominate your colleagues and help NANN celebrate their valuable contributions to neonatal nursing.
NANN offers the following awards:
Robyn Main Excellence in Clinical Practice Award
Navigator Award
Leadership Award
NNP Excellence Award
Chapter of the Year Award
Individual chapter project awards for advocacy, communications, community service, educational offerings, fundraising efforts, and membership recruitment and retention
Review the online application for each award to learn more. Nominations are due May 1.
Brighter Tomorrows Story Contest Now Open
Enter the Brighter Tomorrows Story Contest for a chance to win a complimentary registration for NANN's 33rd Annual Conference in Providence, RI, October 11–14, 2017.
Stories should be relevant to neonatal nursing practice and relate to a babys or family's progress or describe the professional development of a neonatal nurse. The maximum length for stories is 500 words (stories that exceed the maximum length will not be considered), and photos may accompany stories if the appropriate permission has been granted and a signed release form is submitted with the entry. Download a photo release form and read stories submitted in previous years on the Brighter Tomorrows section of the Scholarships and Contests page. To enter, please send your story and release form via e-mail to This email address is being protected from spambots. You need JavaScript enabled to view it.. All entries must be received by Monday, May 1.
Please note: By submitting a story, you give NANN permission to reproduce it in the association's print and electronic media. The winning entry will be chosen in May 2017 and its author will be notified immediately thereafter.
Chapter Spotlight
Joyce Stein, BSN RN
President, State of Michigan Chapter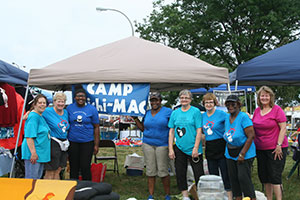 In 2016, the State of Michigan Chapter of the National Association of Neonatal Nurses celebrated 25 years of service to our members and the community and received NANN's Chapter of the Year award!
It has been our priority over the past few years to grow our membership to be representative of all NANN and neonatal intensive care unit chapter nurses in our state. Through collaboration and networking with fellow chapter members, we have doubled our membership and now have active programming with co-leadership roles on both the east and west sides of the state. We changed the name of our chapter in 2016 to reflect our expansion. While building our membership, we have maintained our three core goals of education, fundraising, and donating to community organizations. In 2016, we were privileged to offer two 4-hour PICC workshops conducted by Elizabeth Sharpe. We thank Argon Medical for their support in helping to sponsor this event.
We have hosted fundraising activities such as trivia, and at every meeting we collect items to donate to local charities such as the Coalition on Temporary Shelter in Detroit, the Diaper Bank, and Palmer Academy. For more than 10 years, our chapter has held an annual garage sale to raise money to send kids to Camp Michi-Mac, a camp for kids who have asthma. Over the years the State of Michigan Chapter members have been active participants at the camp and campers have been active participants at our fundraising events; it's a truly wonderful collaboration!
To foster recruiting new nurses into the field of neonatal nursing, our chapter offers nursing scholarships every year to junior and senior nursing students who are pursuing a bachelor's of science in nursing and express an interest in maternal/child nursing. This has been a wonderful opportunity for our chapter members to identify future NICU nurses, mentor them in their professional development, and invite them to participate in NANN and chapter activities.
In 2017, our chapter looks forward to continuing to offer valuable continuing education programming to our members. We will celebrate our 25th Annual Nursing Conference March 28–29 in Frankenmuth, MI, and are excited that our NANN president, Lori Brittingham, will join us for our celebration. Mark your calendars and come visit our great state of Michigan!
Discounts and Free Articles from Advances in Neonatal Care
NANN members save 30% on continuing nursing education (CNE) with Advances in Neonatal Care (ANC), the official journal of NANN! Use code ANC-NANN when purchasing continuing education (CE) activities associated with the journal using the steps below:
Log in to the CE Connection Nursing Center website using your NursingCenter.com user ID and password.
Visit the Advances in Neonatal Care journal subsite and enter the code ANC-NANN at checkout.
Complete the purchase and enjoy your discounted CNE!
ANC also is featuring a free article for all members during the holiday months! Breast Milk Stem Cells: Current Science and Implications for Preterm Infants is now available. Be sure to share the article with your peers!
Attend the NEO Conference this Month!
Make plans to attend the 2017 NEO Conference, February 23–26 in sunny Orlando, FL! Join hundreds of neonatal colleagues and peers as you learn and network with industry leaders who will cover the critical issues of newborn medicine.
Our Sponsor