Registration is Open for NANN's VIRTUAL 37th Annual Conference!
Conference Details
NANN's 37th Annual Conference will be held virtually from September 13-15, 2021.

The NANN Board of Directors was looking forward to NANN returning to a live conference this year in Denver however the ongoing COVID-19 regulations and recommendations at the federal/state/local levels made it necessary to cancel the in-person portion of the conference. In addition to these regulations and restrictions, our members are healthcare workers and many remain on the front lines of combatting the pandemic with the most vulnerable of our population. As such, hosting the conference virtually will allow all members and stakeholders to participate this year. We look forward to hosting an in-person conference in Las Vegas in 2022.
For NANN's 2021 conference, expect the same wonderful virtual experience as last year, with even more opportunities to connect, learn, and network with your neonatal nursing peers from all over the world.
NANN Members Save with Group Registration
New this year, register your group for their discount as part of our online registration process. You can also register your group via our downloadable registration form and send back via email, mail, or fax.
Browse the schedule Download conference brochure Register now
Register Early for NANN's Conference SWAG Box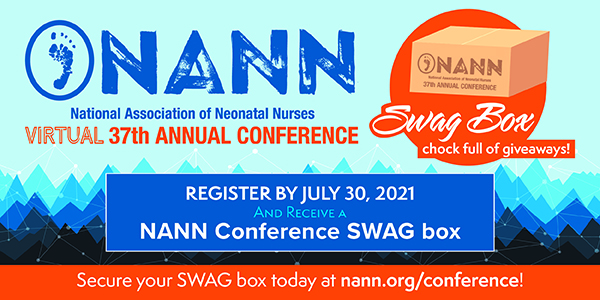 Chock full of the best giveaways from our sponsors and industry partners, this year's NANN Swag Box is available to all attendees who register by July 30, 2021! Book your spot now and secure your SWAG box!
Share your conference feedback
NANN strives to provide the most diverse and beneficial conference offerings for all neonatal nurses and APRNs. As we plan for future conferences, we're assessing the needs of our members and customers so our conference can align with your educational interests. Share your thoughts in this quick, 5-minute survey so that NANN can continuing putting on the best neonatal conference!
Accreditation Statement
The National Association of Neonatal Nurses is accredited as a provider of continuing nursing professional development by the American Nurses Credentialing Center's Commission on Accreditation.
Want to be kept up to date with the latest on NANN's VIRTUAL 37th Annual Conference?
NANN is currently planning the 2021 Annual Conference and will update this page as more information becomes available. Be the first to know about conference updates by completing the form below.