Feature
Reflections on Volunteer Work in Uganda
Chelsea Hunter, BSN RN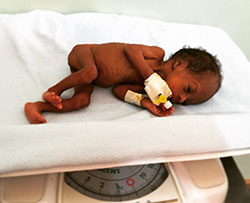 She lay naked, without oxygen, a nasogastric (NG) tube, or monitor. I placed one of Uganda's smallest infants on the scale to be weighed. She registered at 800 grams, just shy of two pounds. After assisting with a presentation on neonatal resuscitation and developmental care just a few hours earlier, I was eager to do some hands on teaching with the staff at Masindi-Kitara Medical Center (MKMC). In America, the land of abundance, I would normally start intravenous (IV) fluids, place an NG tube for feeding, and place the infant on continuous monitoring. With limited resources, I was reminded that medicine in third world countries must rely on simplicity.
This tiny human had to share an incubator with another baby, have her vital signs checked only every 4 hours, and wouldn't be able to receive any nutrition through an IV. With an estimated gestational age of 30 weeks, I was skeptical that she would be coordinated enough to drink from a bottle, but I knew she needed to in order to survive. I held her close, swaddled in multiple layers, and watched in disbelief as she finished an ounce of breast milk within 10 minutes. I was 9,000 miles away from home, trying to utilize my knowledge as a neonatal nurse in a developing country. Instead, I found humility in a moment with a child who wasn't even old enough to have a name, as she proved that her success wasn't based on medicine but on her will to survive.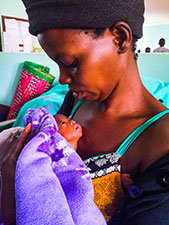 I was forced to shift my focus. Instead of numbers, tubes, and monitors, I showed the nurses the most basic, beneficial skill of holding the infant skin-to-skin with the mother. Even though the mother couldn't speak English, I saw the joy in her eyes as she held her baby close. I realized that this moment was worth more than medicine could ever offer.
MKMC serves as a home to the region's only incubators and is a lifeline for premature infants. Along with the provision of critical care to infants, the medical center serves the surrounding population of Masindi, Uganda, with a maternity ward, triage area, inpatient ward, operating theater, diagnostic imaging, lab, and pharmacy. Local residents operate the entire facility. The medical center was built by OneWorld Health, a non-profit organization with a vision to provide quality, affordable health care while empowering a community to take ownership in their own treatment and health. In a little over 1 year of operation, the center became self-sustainable through patient fees instead of money from donors. Their mission encourages me to serve alongside the organization as a short-term volunteer, and I have returned 4 years in a row.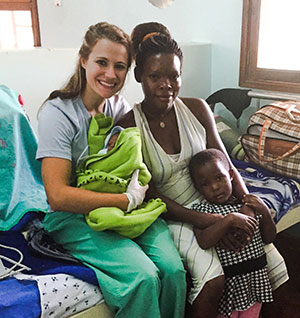 This past August, I joined a team of doctors, nurses, pharmacists, physical therapists, dental hygienists, and other volunteers. In conjunction with providing continued education at MKMC, we set up mobile clinics at churches and schools in villages 1–2 hours away. Each morning, we piled into vans and drove along bumpy, red dirt roads to reach the sick and the poor. As a nurse, I took part in triage. With the assistance of an interpreter, I obtained vital signs and a brief history so that our doctors could diagnose and treat patients effectively. Common complaints included pain, heartburn, allergies, headaches, malaria, and infection.
Behind every sickness was a person and behind every person was a story. One of my most memorable patients was Frank, who crawled into triage displaying the devastating effects of post-polio syndrome. He suffered from muscular weakness and fatigue, which made it impossible for him to walk. Despite this disability, Frank continued to herd cattle, milk cows, and retrieve water each day. He explained that the pain made these tasks difficult, but that they were necessary to take care of his family. He made the long journey to the clinic looking for our help.
I was brought to tears watching Frank walk away from clinic with the help of a walker provided by our physical therapy team. Because of them and because of us, his life is forever changed. The bright smile on his face expressed joy, great appreciation, and happiness. The resilience and strength of the people of Uganda is what motivates me to return each year to serve them.
Our Sponsor