Product Spotlight
Newly Released Resource for PICCs—Peripherally Inserted Central Catheters: Guideline for Practice, 3rd Edition, Is Now Available!
Authors
Mary Mason Wyckoff, PhD NNP-BC FNP-BC ACNP-BC CCNS CCRN FAANP Elizabeth Li Sharpe, DNP ARNP NNP-BC VA-BC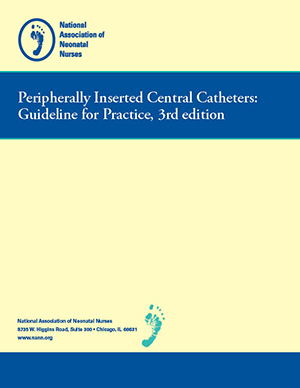 Publication Date: October 2015
The third edition of this highly referenced guideline is intended to inform clinical practice, reflecting the latest information on practice, education, and techniques, and includes essential information for anyone providing care for an infant with a peripherally inserted central catheter, including complications prevention, detection, and management and evolving technology. This updated publication describes practices currently accepted and documented by neonatal care experts and is meant to provide a foundation for specific nursing protocols, policies, and procedures developed by individual institutions.
New in this edition are evidence-based graded practice recommendations and new color illustrations.
Learn more and purchase the new guideline on NANN's website.
Our Sponsor