President's Message
Board Update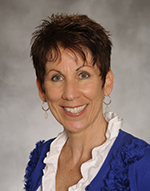 Regina Grazel, MSN RN BC APN-C
At the conclusion of NANN's 31st Annual Educational Conference, the combined current and incoming board members met for 8 hours of education and orientation to help optimize our collective efforts to advance NANN's mission and promote its long-term welfare.
We had an insightful discussion about the characteristics and behaviors of high-performing boards. It is vitally important that any board fulfills its fiduciary responsibilities of being faithful to the mission of the organization, accountable for performance, and compliant with laws and regulations. While attending to these responsibilities, high-performing boards devote the majority of their limited time together to focus on strategy and scanning the horizon to identify emerging issues and opportunities that could impact the organization in the future. In addition, they strive for a clear understanding of the issues and to engage in constructive dialog to make high-quality decisions that drive organizational effectiveness. The NANN Board comprises dedicated volunteers aspiring to perform at this high level and serve the needs of the organization and its members.
Early next year, we will gather at NANN's national office in Chicago for a strategic planning session that will evaluate NANN's direction and key partnerships for the future. I look forward to sharing our direction with you in the spring.
Our Sponsor