NANNP Corner
Council Update
Susan Meier, DNP APRN NNP-BC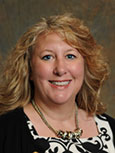 There are more than 205,000 nurse practitioners (NPs) licensed in the United States. Neonatal nurse practitioners (NNPs) make up 1.1% of all NPs. The National Association of Neonatal Nurse Practitioners (NANNP) is the only national association dedicated solely to NNPs. NANNP is the professional voice that shapes neonatal nursing through excellence in practice, education, research, and professional development.
We've just returned from a great annual conference in Dallas, TX. Many NNP colleagues joined us for the NANNP business meeting and APRN day, which included concurrent faculty and clinical leadership sessions. If you were not able to be with us, a recording of the NANNP business meeting, which includes a review of NANNP's achievements and activities from this past year, is available on NANN.org thanks to a generous grant from Ensearch.
During the NANN 31st Annual Conference, we also had the pleasure of debuting two videos from NANNP, which already had 7,500 views by the end of the event! Both the NNP professional and NNP recruitment videos are available for viewing and download on NANN.org. Please view and share these videos—they truly celebrate the NNP role.
As we look forward, the NANNP Council will continue its work on quality metrics, an NNP mentoring toolkit, the Recruitment and Retention Task Force, and a Value and Visibility plan, which aggregates the work of all our external liaisons and allows us to keep a finger on the pulse of issues affecting NNPs. New things to come include exploring opportunities to partner with the AAP Perinatal Section, publishing an oxygen management guideline, developing a 2016 Neonatal Workforce Survey that will focus on compensation, and establishing a taskforce to define the standard for an NNP refresher course to facilitate re-entry into practice.
As always, the NANNP Council is interested in your feedback and comments. Please feel free to reach out to any of us via MyNANN.
Our Sponsor