Association News
Regina Grazel Is NANN's New President!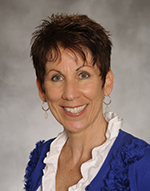 At NANN's annual business meeting, conducted during the 31st Annual Educational Conference in Dallas last month, a special election was held to fill the vacancy in the office of president. Regina (Jean) Grazel, MSN RN BC APN-C, was elected president for 2015–2016. Jean also will serve as the immediate past president in 2016–2017.
Jean is a certified advanced practice nurse with more than 30 years of neonatal nursing experience. She holds several clinical designations, including board-certified high-risk perinatal nurse, neonatal resuscitation program regional trainer, NANN neonatal developmental care specialist, and certified breastfeeding counselor. Jean served two terms on the NANN Board of Directors and is a former president of her local chapter, Delaware Valley Association of Neonatal Nurses. She has held varied positions as nurse clinician, educator, project director, and public health nurse. Jean is the project coordinator for the New Jersey Department of Health Critical Congenital Heart Disease Screening Program and is employed by the New Jersey Chapter of the American Academy of Pediatrics through a federal Health Resources and Services Administration grant.
NANN is grateful to Cheryl Carlson for her additional service as interim president this past year and congratulates Jean on her new leadership role.
Nurse in Washington Internship Scholarship Application Deadline Fast Approaching!
We are pleased to announce the availability of two NANN-sponsored scholarships to attend the Nurse in Washington Internship (NIWI) program in Washington, DC. The 2016 program runs March 6–8, 2016, at the Westin Crystal City in Arlington, VA. The scholarship will cover the meeting registration fee and the cost of travel, lodging, and meals.
The program, hosted by the Nursing Organizations Alliance, offers an intensive learning experience for nurses interested in becoming more involved in the legislative and regulatory aspects of health care. In providing this scholarship opportunity, NANN hopes our members will become more involved in the legislative process and our advocacy efforts.
Visit the NANN website for more information and application instructions for the 2016 NIWI scholarship. Applications are due November 20, 2015.
Join the Advocacy Community on MyNANN to stay up to date on issues related to healthcare policy and advocacy.
Apply Today: NICU Leadership Forum Scholarship
NANN is pleased to announce the availability of scholarships to attend the NICU Leadership Forum, April 24–28, 2016, at The Marriott Sawgrass in Ponte Vedra, FL.
Leadership in the NICU requires knowledge, creative thinking, and problem solving to confront increasing regulatory, business, and personal challenges. The NICU Leadership Forum will provide you with practical solutions to help you navigate daily challenges while also providing opportunities to network with fellow NICU nursing leaders.
To apply, visit the NANN scholarship page or access the application site. To be considered you must be a current NANN member and a nursing director or manager of a NICU. Applications are due Friday, January 14, 2016.
2016 Small Grants Program
The Small Grants Mentee/Mentor Program is now accepting applications from all NANN members with an interest in furthering their research interests and/or initiating their own research study or evidence-based practice (EBP) project. The program provides an avenue for connecting those with little or no research background with experienced researchers to enhance their skills and promote the success of the research study or EBP project. The deadline to submit your grant application is Monday, March 1, 2016, at 11:59 pm CST.
If you are selected to receive one of the small grants, you are required to attend NANN's 32nd Annual Educational Conference, October 26–29, 2016, in Palm Springs, CA, to be recognized and receive your grant. You are also required to present your findings at the 2018 NANN Annual Educational Conference.
Complete a small grants application today!
Our Sponsor