Feature
Using FaceTime to Improve Patient Bonding
Jamie Hutcheson, BSN RNC CPN
Staff Nurse
Hendricks Regional Health, Danville, IN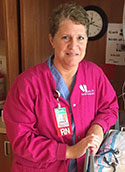 Bonding is a unique and long-term emotional tie that begins with the first contact between the mother and infant (Johnson, 2013). For a newborn admitted to a special care nursery (SCN) after birth, bonding can be difficult to achieve. To improve the bonding process for parents at the Hendricks Regional Health in Danville, IN, we implemented the use of FaceTime in a nurse-led initiative that connects parents with their infant.
The project began when I noticed a father using FaceTime to share his baby's movements and voice with his wife while he was visiting his son. With so many recent technological advances, I thought we should develop a protocol and policy for using FaceTime in our SCN to help facilitate patient bonding experiences. I immediately sent an e-mail to my unit director and clinical managers requesting permission to pursue this project and inquiring about available funding. With 100% backing from management, I contacted our information systems department, health information management department, policy coordinator, and risk management department. I got our SCN nurses involved during our bimonthly meetings and received total support for this project. After 10 months of work, we had secured two iPads, developed a new policy and a consent form, and educated all staff in the child birth center.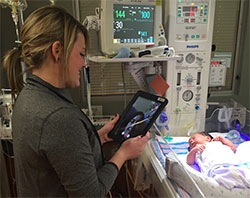 Staff RN Katy with iPad in SCN letting parents "visit" with their baby.
After a short period of time, we discovered the project was applicable beyond our SCN and could be used throughout our entire unit. We used it to help fathers "attend" their baby's birth even when they were physically unable to do so. Furthermore, we found it useful for connecting grandparents and siblings who were unable to visit their new family members in person. We brought physicians on board, encouraging them to use iPads while discussing a baby's plan of care when parents were unable to be in the neonatal intensive care unit (NICU). This allowed parents to see their neonatologist and their baby during these discussions.
Despite the clear success of this project, we encountered a few obstacles along the way. Communication was the common denominator of these glitches, and we learned that keeping staff informed and engaged is crucial for success. To improve communication, FaceTime education was presented during our SCN and unit meetings. Education was also provided through e-mails for those staff members who missed relevant meetings. In addition, a written explanation of the FaceTime process as well as consent forms were posted in the SCN as reminders. I also try to verbally remind staff members to use this new technology when I see them in the unit during shift report. Our hospital risk manager identified a potential problem regarding Health Insurance Portability and Accountability Act (HIPPA) regulations. He determined that each NICU family, regardless of FaceTime participation, needed to sign a consent form to protect the unit in the event of overheard conversations that may include patient information. Initially, I thought the need for this consent form might be a barrier; however, every family has graciously signed it without issue or concern.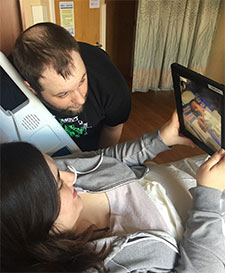 Parents "visiting" with their baby via FaceTime.
Not only are parents enjoying this new project, but nurses and physicians also have jumped on board and are great advocates, presenting this process to our parents as a way to enhance bonding when babies are separated from parents. We typically use FaceTime when mothers have a Cesarean section surgery and cannot yet travel to the SCN to visit with their babies. A few parents have commented on "how they love to see their babies in motion." One mother stated, "I loved to see him breathing and hear him crying as opposed to 'still' pictures. It was a relief for my separation anxiety." One father stated, "I felt like I was useful in helping my wife connect with our daughter even though she couldn't physically hold her after birth."
We continue to use FaceTime on our unit—106 babies (and counting) have been involved since the program was initiated. A query has been added to our electronic medical record for staff to document the use of FaceTime to help address bonding in our flow sheet and in data gathering. Feedback from parents who have participated in this process indicates that the program has improved bonding. This FaceTime process is not only applicable to SCN but also can be implemented unit wide, system wide, state wide, and with other patient populations. I am working with one of our tertiary centers to implement the FaceTime program so that we can keep our mothers connected to their babies if they are transferred shortly after birth.
FaceTime enhances our delivery of patient bonding experiences with our patients. This process has been integrated into our daily routine in the SCN. We have two iPads available in our SCN, but the project is extremely popular and there are times we could use additional hardware. We continue to receive positive feedback from parents and praise for offering this service. We look forward to additional opportunities to utilize this technology on our unit and throughout our hospital.
Reference
Johnson, K. (2013). Maternal-infant bonding: A review of literature. International Journal of Childbirth Education, 28(3), P17–22.
Our Sponsor