President's Message
Keep NANN Great—Volunteer Today!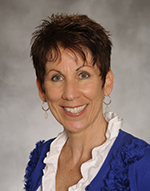 Regina Grazel, MSN RN BC APN-C
An organization is only as strong as its members, and NANN is great because of you! The NANN Board of Directors and I thank each and every one of NANN's volunteers. You're at the very heart of the association, carrying out its mission through your efforts. We thank you for the many ways you serve: on committees, task forces, the board of directors, and the NANNP Council; as liaisons to other organizations; and so many other ways.
If you've been thinking about joining a committee or serving NANN in some other capacity, now is the time. The annual call for volunteers is open. This is your opportunity to get involved and share your knowledge, expertise, and talents to improve care for patients and families and advance the profession. In addition to the satisfaction that comes with knowing you're making a real difference, deepening your involvement by donating your talents and time also brings great rewards in the form of personal and professional growth. Reach career goals, grow your network, meet new colleagues, learn about new ideas, expand your knowledge, and develop your leadership skills all through NANN volunteerism. And volunteerism builds your resume. Listing association membership and involvement demonstrates your professional dedication to current and future employers.
Take your NANN participation to the next level and connect with other neonatal leaders nationally, and sometimes even globally, to work toward common goals. As a NANN volunteer, you'll join forces with a group of talented, experienced neonatal professionals who share your passions to influence, make an impact, and be inspired. Together, we can continue to do great things through NANN.
Our Sponsor