NANNP Corner
Council Update
Susan Meier, DNP APRN NNP-BC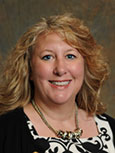 We are all tired—tired of working too hard, being short-staffed, taking on extra shifts, and caring for too many patients. Recently, I heard the statistic that for every new-graduate neonatal nurse practitioner (NNP) there are at least four open positions nationally.
We all are well aware of the national shortage and need for more neonatal nurses to become NNPs. In fact, many of NANNP's current initiatives focus on the workforce shortage of neonatal advanced practice registered nurses (APRNs).
How do we not only make our role look appealing but also retain the recent-graduate NNPs in our institutions? Support is key.
I've been reading about ideal new-graduate APRN programs. Mentoring the novice nurse practitioner is one of my professional interests and passions. From my own experience, I know that the newly graduated NNP needs support on many different levels—from preceptors, nurse managers, fellow new graduates, families, and mentors.
What can we do as experienced NNPs? The following are some suggestions about how to help new graduates (Knopper, 2016):
Give them room to try things and increase their confidence, but also give them a safety net.
Help them find the right number of patients. They need a workload with enough challenge, but one that is not too overwhelming.
Educate preceptors so they know how to teach the novice NNP, and reward preceptors for stepping up to develop the next generation.
Develop programs that take into account different learning styles.
Allow time for the new graduate cohort to get together to vent, compare notes, and foster camaraderie.
Encourage managers to check on the new graduates regularly to make sure they are having a good experience; add educational or training opportunities as needed.
After orientation is completed, encourage novice NNPs to serve on a committee and attend unit-based meetings. This will make them feel they are a respected, valued part of the team.
I would like to share some thoughts from a new-graduate NNP:
"Now, at the end of my first year, I no longer feel terrified, like I did that first day, but I wonder how long it will take for me to be at the other end of Benner's spectrum. I have watched those expert NNPs, and they inspire me so much. They notice so many details simultaneously, and they draw from such a deep well of knowledge and experience. I aspire to someday be one of those experienced NNPs, guiding a new one, gently, from the edges. That's why it's worth investing in us new grads, even if we drive you crazy with our questions, our rookie moves, and our anxious worries. Reach out to us and make us feel at home. Before you know it, we will be the next preceptors, mentors, experts. We will keep the cycle going, caring for our patients and our colleagues."
In closing, I am pleased to announce that Lee Shirland has been elected to serve as NANNP's chair-elect. She shares our passion on this topic and will work with the NANNP Council to support the professional development of neonatal APRNs.
Reference
Knopper, M. (2016). New grad retention: support is key. Colorado Nurse, 116(1), 7. Available at http://nursingald.com/publications/1305. Accessed on February 29, 2016.
Our Sponsor