President's Message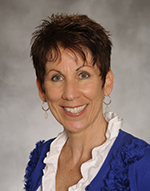 Regina Grazel, MSN RN BC APN-C
We're just about 3 months away from NANN's 32nd Annual Educational Conference, and the excitement is really building for what we're sure will be our best event yet! This year's conference takes on a fresh look and promises many new features, additional educational offerings, and fun!
Take your NANN participation to the next level and connect with other neonatal leaders nationally, and sometimes even globally, to work toward common goals. As a NANN volunteer, you'll join forces with a group of talented, experienced neonatal professionals who share your passions to influence, make an impact, and be inspired. Together, we can continue to do great things through NANN.
NANN has partnered with the Vermont Oxford Network to offer a premier preconference on neonatal abstinence syndrome (NAS) at which the country's most respected NAS thought leaders will discuss real-life solutions for this fragile population of neonates. In addition, late-breaking educational sessions are being added to the conference to ensure you receive the most up-to-date clinical information.
And now for the FUN. We kick things off with a revamped Exhibit Hall Welcome Reception jam-packed with awesome vendors and entertainment. We'll have games and engagement opportunities, complimentary professional headshots, and a little bit of healthy, fundraising competition. Be sure to follow all the excitement on social media. Best of all, the NANN Conference Party is back this year! Join me on the dance floor for fun and fellowship following the Welcome Reception. More details will be shared soon, but be sure to pack your dancing shoes!
NANN also has an upcoming cultural learning opportunity for members. I am honored that NANN has been invited by the president of the Cuban Society of Nursing to send a delegation to visit Cuba. The NANN delegation will meet with our Cuban counterparts to share knowledge about neonatal nursing practice and discuss the role of nurses in healthcare delivery in Cuba. This is a wonderful opportunity to learn about another healthcare system while experiencing the richness of Cuban culture. The trip is planned for March 2017. In addition to the academic itinerary for delegates, there are options for guests as well. For more information and trip details, click here.
Thank you to everyone who voted on the proposed bylaws amendments. I am pleased to inform you that they passed by a wide margin of approval. The annual elections for positions on the Board of Directors and the NANNP Council open today. Please take a few minutes to learn about the candidates (Board and Council) and cast your vote. Your voice matters, and your vote impacts the future of your association. Thank you for your active participation!
Our Sponsor