Research Summit
NANN's Research Summit allows neonatal nurses currently engaged in research or evidence-based practice projects the opportunity to present their research or projects to an audience of their peers. Each participant has 15 minutes for a presentation and 5 minutes for questions and discussion.
13th Annual NANN Research Summit
Join us for the next Research Summit in Scottsdale, Arizona, April 10-12, 2018 by submitting a Research proposal or Evidence-Based Practice change project that you have implemented or are planning to implement and complete by early Spring 2018.
Deadline for proposals: Wednesday, November 1, 2017 at 5pm CT
Selected individuals attend the fully-supported Summit to present their research or practice change outcomes and discuss the process and results with other researchers from around the country and the world!
All submissions will undergo a blind review process (i.e., the reviewers are unaware of the applicant's identity) for quality, relevance and merit by the NANN Research Committee Advisory Panel. All submitters will be notified in December 2017 regarding the status of their submission. Approximately 20 people will be selected to participate in this program. Individuals who have not presented at the past two Research Summits will be given priority. Selected participants will receive support for their summit attendance as follows:
• Round-trip non-refundable coach airfare to Phoenix from any United States airport/point of origin.
• Two (2) nights hotel accommodations at the The Scott Resort & Spa in Scottsdale, Arizona. Please note that each participant is asked to share a hotel room with another participant.
• Complimentary meals during the Summit.
Each participant will be allowed 20 minutes for a presentation (15 minutes for the presentation and 5 minutes for questions and discussion). Additional information regarding the program will be sent in conjunction with acceptance letters.
This program is made possible through an unrestricted educational grant from Mead Johnson Nutrition.
Submit your Research proposal or EBP change project. You will need to create a Login and Password to submit. You cannot log in with your NANN Username and Password.
Requirements
1. The work you are submitting must not have been previously published or presented and will not be published or presented before the Research Summit.
2. You must include documentation of IRB approval or exemption with your submission.
3 Your abstract body is not to exceed 500 words.
4. You must be a NANN member in good standing.
5. Before the Summit, you must submit your abstract to the NANN Journal, Advances in Neonatal Care (maximum 250 words).
If you have any questions, please contact NANN Education at education@nann.org.
12th Annual NANN Research Summit
NANN held its 12th Research Summit in Scottsdale, Arizona, March 28-30, 2017. The keynote address was presented by Diane Holditch-Davis, PhD, RN, FAAN, Marcus Hobbs Distinguished Professor Emerita at Duke University in Durham, NC. Over the course of a day and a half, each participant gave a twenty minute presentation of their research, followed by ten minutes of Q&A. The NANN summit was facilitated by NANN volunteers Ann Phalen, Research Committee Chair, Liz Sharpe, NANN Board member and Jackie McGrath, an Editor-in-Chief of the ANC. Mead Johnson Nutrition hosted an inaugural collaboration reception for the summit participants and AAP Section on Neonatal-Perinatal Medicine Executive Committee Science Synergies to share research initiatives. This relationship is set to continue as the groups meet at the same venue during the same time each year.
"'Medicine is a science of uncertainty and an art of probability.' William Osler (one of the physician founders of Johns Hopkins) Dr. Osler is also quoted as saying, 'The trained nurse has become one of the great blessings of humanity…'. In my humble opinion, both statements beautifully sum up the energy and excitement at the 2017 NANN Research Summit. You are all to be commended for your meaningful work and it was an honor for me, on behalf of Mead Johnson Nutrition, to play a small part in facilitating this event. I wish you all the best as you disseminate and perfect your research."
Marie Boone-Clark, Mead Johnson Nutrition
12th Annual NANN Research Summit Attendees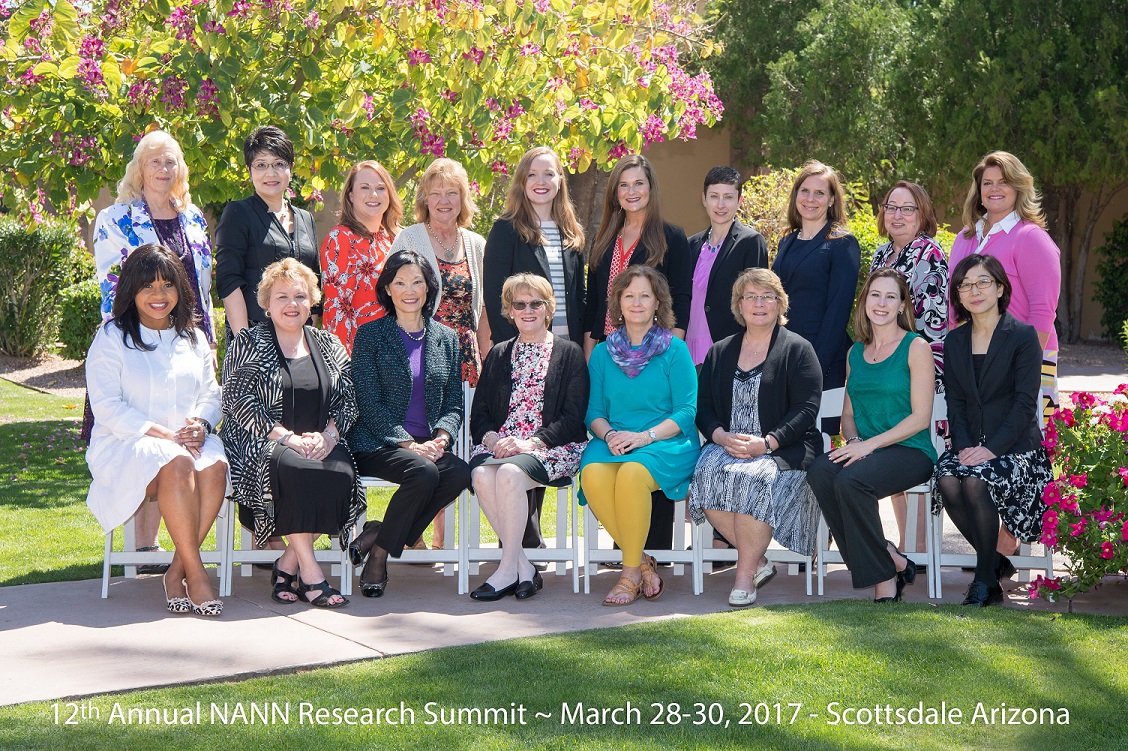 Row 1 (from left)
Marie Boone-Clark - Mead Johnson Nutrition
Elizabeth Fiske - Appalachian State University
Ann Phalen - Thomas Jefferson University
Barbara Reyna - VCU Health System
Katherine Newnam - Children's Hospital of the Kings Daughters
Amy Ditzel - Boston Children's Hospital at South Shore Hospital
Aya Nakai - Chiba University Graduate School of Nursing
Row 2 (from left)
Diane Holditch-Davis - Duke University
Wakako Eklund - Pediatrix Medical Group
Rebecca Logan - Berry College
Sandra Beauman - University of New Mexico
Lisa Smotrich - John Hopkins All Children's Hospital
Audrey Nervig - Creighton University
Media Esser - Children's Hospital of Wisconsin
Elizabeth Schierholz - University of Pennsylvania
Jaqueline McGrath - University of Connecticut
Lauri Symonds - Mead Johnson Nutrition
The Research Summit is made possible through an educational grant from Mead Johnson Nutrition.