Research Summit
NANN's Research Summit allows neonatal nurses currently engaged in research or evidence-based practice projects the opportunity to present their research or projects to an audience of their peers. Each participant has 15 minutes for a presentation and 5 minutes for questions and discussion.
15th Annual NANN Research Summit
The next Research Summit scheduled in Scottsdale, Arizona, has been canceled. In light of the global pandemic and related governmental restrictions and CDC guidelines, NANN, with the support of Mead Johnson, has made the difficult decision to cancel our in-person NANN Research Summit planned for Scottsdale, Arizona. The health and safety of our attendees is our highest concern. Although we will miss being together in person this fall, we look forward to meeting virtually September 23-24, 2020.
Next year's 2021 NANN Research Summit is planned as a live event in Scottsdale, Arizona.
See the 2020 Summit Participants
Selected individuals attend the fully-supported Summit to present their research or practice change outcomes and discuss the process and results with other researchers from around the country and the world! The call for submissions closed on November 18, 2019.
All submissions will undergo a blind review process (i.e., the reviewers are unaware of the applicant's identity) for quality, relevance and merit by the NANN Research Committee. All submitters will be notified in December 2019 regarding the status of their submission. Approximately 20 people will be selected to participate in this program. Individuals who have not presented at the past two Research Summits will be given priority. Selected participants will receive support for their summit attendance as follows:
Round-trip non-refundable coach airfare to Phoenix from any United States airport/point of origin.
Two (2) nights hotel accommodations at the Doubletree Resort Paradise Valley in Scottsdale, Arizona. Please note that each participant is asked to share a hotel room with another participant.
Complimentary meals during the Summit.
Each participant will be allowed 20 minutes for a presentation (15 minutes for the presentation and 5 minutes for questions and discussion). Additional information regarding the program will be sent in conjunction with acceptance letters.
This program is made possible through an unrestricted educational grant from Mead Johnson Nutrition.
Requirements
1. The work you are submitting must not have been previously published or presented and will not be published or presented before the Research Summit.
2. You must include documentation of IRB approval or exemption with your submission.
3. Your abstract body is not to exceed 500 words.
4. Your study must be complete, including results.
5. You must be a NANN member in good standing.
6. Before the Summit, you must submit your abstract (max 500 words) and manuscript to the NANN Journal, Advances in Neonatal Care.
If you have any questions, please contact NANN Education at education@nann.org.
14th Annual NANN Research Summit
NANN's 14th Annual Research Summit was held on March 26-28, 2019 in Scottsdale, Arizona. Sheila Gephart was this year's keynote speaker, kicking off the Summit with her presentation "Inertia‐Breaking Methods to Change Practice." 23 presenters were selected to present their work at the Summit and topics ranged from mentoring new NNP graduates to the implementation of a perinatal hospice program to decreasing intraventricular hemorrhage in inborn very low birth weight infants. NANN would like to thank all presenters and the Research Committee for the work they put in and our sponsor Mead Johnson for making this Summit possible.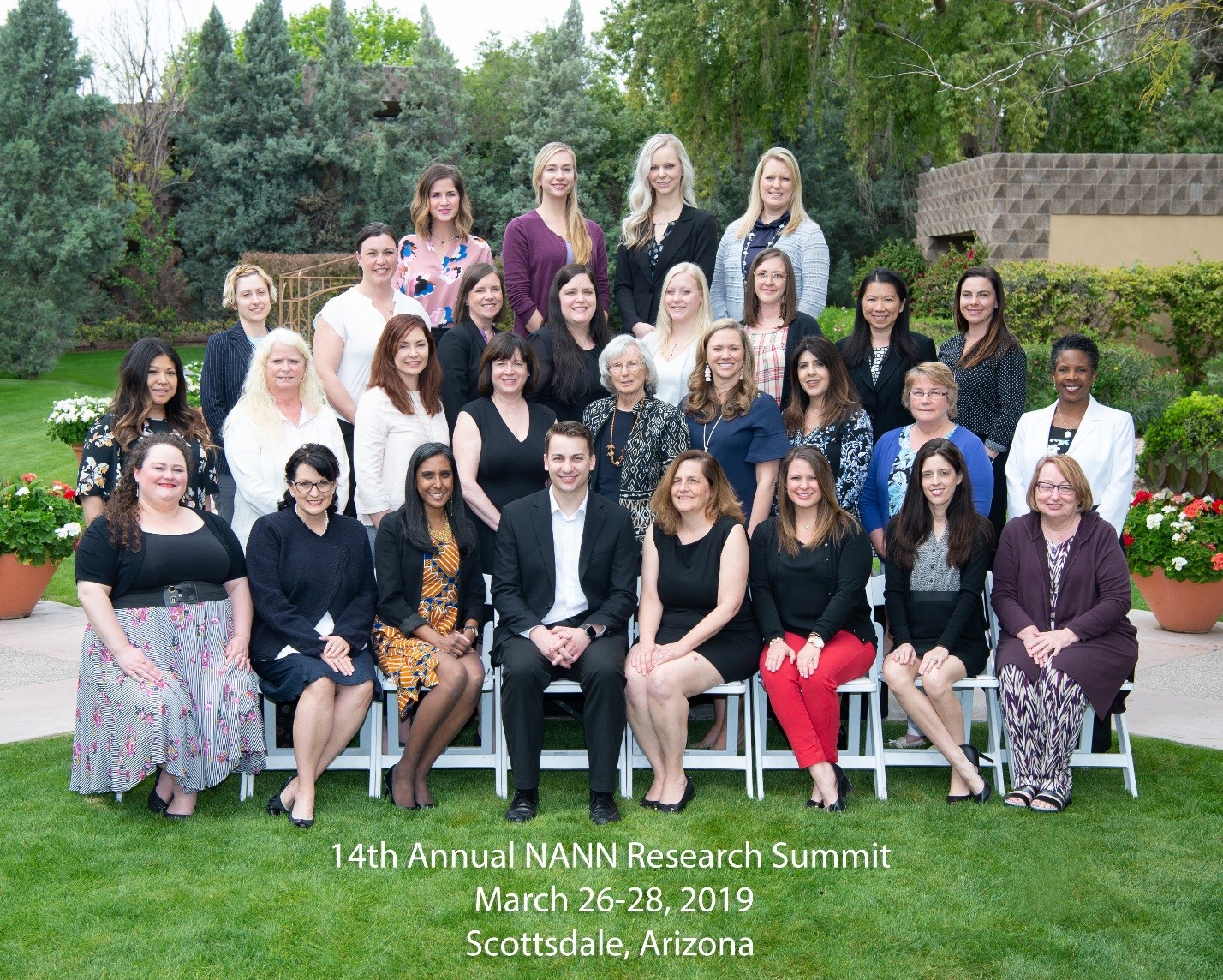 Front Row (Left to right)
Megan Quinn - The University of Arizona
Sheila Gephart - The University of Arizona
Davika Reid - The University of Texas at Austin
Dalton Janssen - Arkansas Children's Hospital
Linda Merritt - Texas Woman's University
Katherine Vincent - Medical University of South Carolina Hospital
Jill Beck - Thomas Jefferson University Hospital
Jacqueline McGrath - UTH San Antonio
2nd Row (Left to Right)
Kathryn Mercado - Pediatrix Medical Group
Debra Armbruster - The Ohio State University
Teresa Bailey - Mednax National Medical Group
Michele DeGrazia - Boston Children's Hospital
Donna Dowling - Case Western Reserve University
Colleen Moss - Vanderbilt Children's Hospital
Ally Kayton - Joe DiMaggio Children's Hospital
Katherine Newnam - University of Tennessee, Knoxville
Katina Langley
3rd Row (Left to right)
Media Esser - Children's Hospital of Wisconsin
Ashlee Vance - Duke University School of Nursing
Megan Tinling - Oregon Health and Science University
Sara McDonnell - Creighton University
Alyssa Jelinek - Creighton University
Megan Falke - Nebraska Medicine
Pornpan Srisopa - The University of Connecticut
Jennifer Gareau‐Terrell - Mednax‐Seton Affiliate Hospitals
4th Row (Left to right)
Elizabeth Thurber - Creighton University
Katelyn Desorcy‐Scherer - The University of Florida
Caelan Elliott - Creighton University
Tiffany Moore - University of Nebraska Medical Center
The Research Summit is made possible through an educational grant from Mead Johnson Nutrition.