Health and Racial Equity
The National Association of Neonatal Nurses (NANN) is dedicated to creating better outcomes for premature babies and their families. Aware of the statistics concerning racially related health disparities for premature infants, NANN is dedicated to intentionally and thoughtfully including Health and Racial Equity as an organizational strategic pillar. Visit this page regularly for updates as we build out our strategic initiatives related to health and racial equity. Currently, the following resources are available for free to all neonatal nurses and APRNs on this topic.
NANN Virtual Recorded Session
Health Equity and Cultural Competency in the NICU: Challenges and Solutions
In this Bonus General Session from 2020 NANN Virtual, Jenne Johns, MPH, takes listeners through an educational and empowering journey to encourage the delivery of high quality and equitable care to all preemie families, regardless of race, language, and socioeconomic status. This presentation explores the impact of not addressing health disparities in the NICU and offers actionable solutions to creating a culture of health equity.
NANN Position Statement
Racial Disparities in the NICU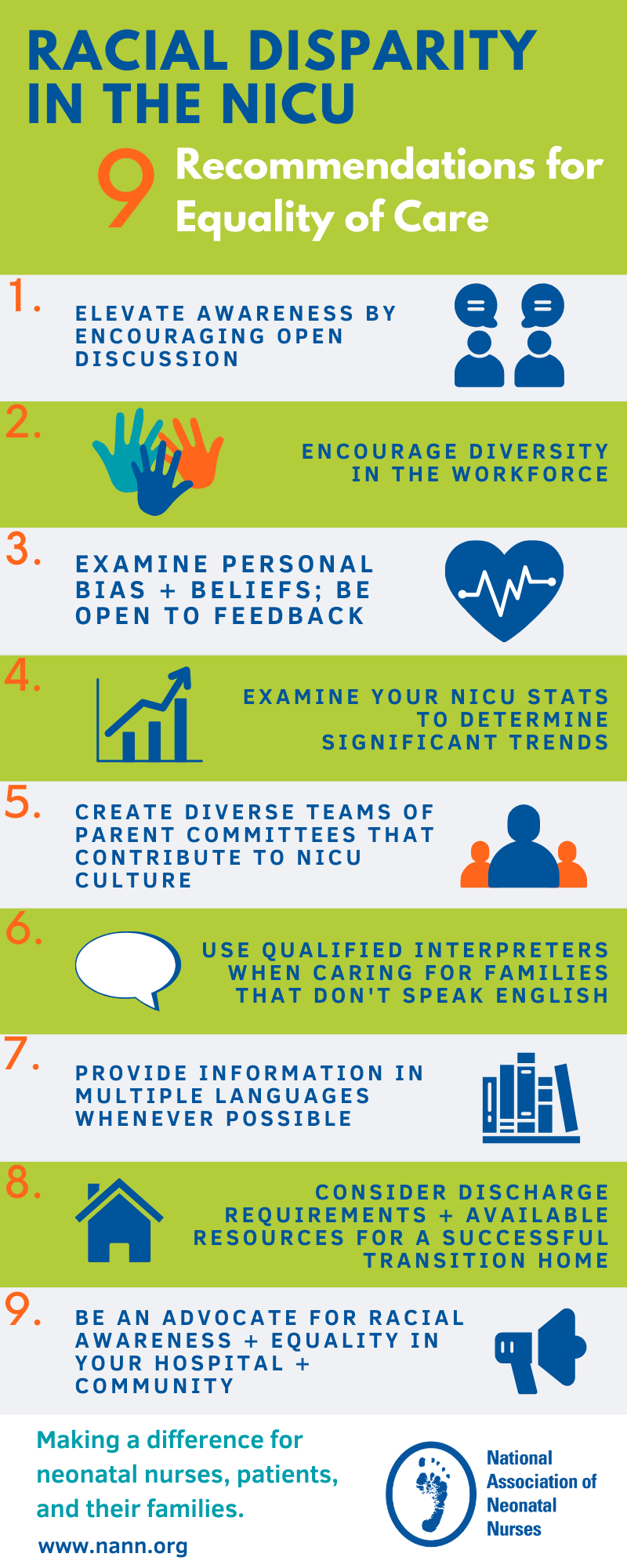 NANN's Board of Directors reviews the statistics concerning racially-related health disparities for premature infants and includes nine recommendations for how to endorse healthcare equality for all infants in the NICU regardless of race, parental economic or educational status, or geographic area. Read the full position statement.
NANNcast Episode
Starting the Conversation: Racial Disparity in the NICU
In this episode of NANNcast, host Jill Beck sits down with NANN's President, Joan Rikli, to discuss data relating to racial and health disparity in the NICU, steps NANN is taking to address racial disparity, and how nurses can drive change in their NICU. Jill and Joan are also joined by Nicole Dixon, Nurse Manager at Atrium Health, for an open, candid conversation on Nicole's experience as an African-American NICU nurse. Listen to the full episode on Apple Podcasts or your preferred podcast streaming platform.
NANN Statement on Racial Injustice
NANN believes in the equality of all human beings, despite race, gender, sexual identity, or creed. For too long, America has maintained a culture of racial disparity and we believe it is time for a change. Read NANN's full statement to learn more on how the organization plans to address racial inequality moving forward.
September 2019 Editorial
Racial Disparities in NICUs: Not in My Unit?
In NANN's September 2019 E-News, past-president Joan Rikli writes about racial inequalities in NICUs, including data found on health disparities in neonates and what actions can be taken to promote positive outcomes. Read the full September 2019 Board Update.
External Resources on Health and Racial Equity
American Journal of Nursing: Get Our House in Order
This webinar focuses on addressing steps nursing professionals can take to confront structural racism from within. The webinar recording is available for free viewing.