National Neonatal Nurses Day—Celebrating You!
National Neonatal Nurses Day is celebrated every year on September 15. Established in 2000 by the National Association of Neonatal Nurses (NANN), members of the neonatal community use this day to honor their nurse colleagues and show their pride in being a neonatal nurse.
National Neonatal Nurses Day provides an opportunity to celebrate the hard work and dedication of neonatal nurses as well as the NANN community. Your contributions to the tiniest patients make a difference that lasts a lifetime for neonates and their families.
NANN continues to provide a supportive, engaging, and vibrant professional community with access to unmatched resources that help neonatal nurses focus on providing the very best patient care.
2016 National Neonatal Nurses Day
As a neonatal nurse, you go above and beyond and are tasked with providing critical care that helps the tiniest patients not only survive, but thrive. You also support neonatal families through incredibly challenging times. The work isn't easy, and it takes a special type of person to be a neonatal nurse. Someone with talented and healing hands ready to work, and warmth and nurturing that comes straight from the heart. This year's Neonatal Nurses Day theme, "Healing Hands, Generous Hearts", showcases the passion you pour into your work each and every day, and the undeniable fact that what you do matters.
Regardless of your neonatal nursing role, your contributions and commitment to the most fragile patients make a difference that lasts a lifetime. On this day, and throughout the year, we celebrate YOU! Thank you for being such an integral part of the neonatal community and for all your efforts—big and small—for the babies and their families.
How can you celebrate Neonatal Nurses Day?
In Your NICU
Help raise awareness of your special day! Print out the 2016 poster to share in your NICU to celebrate National Neonatal Nurses Day.
On Social Media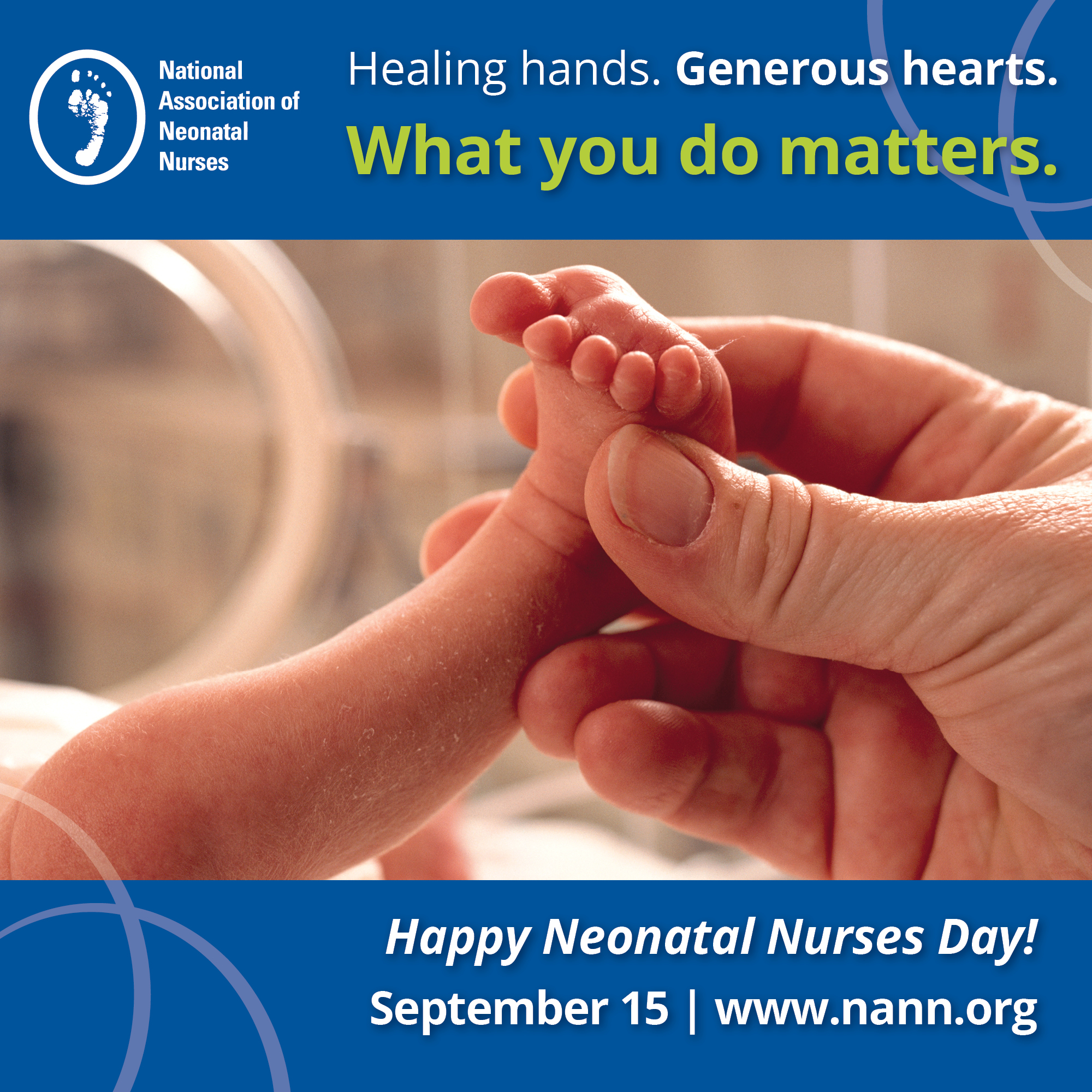 NANN encourages all nurses to change their online profile picture on Facebook, Instagram, or Twitter to celebrate and share their neonatal pride with others. By changing your picture, you let others know how proud you are to make an impact in the lives of your neonatal patients. Save the image above and upload it to your profile.
Share your neonatal experiences on Neonatal Nurses Day and every day on NANN's Facebook, Instagram and Twitter pages. We look forward to hearing from and celebrating you!
Celebrate with Memorabilia
Share your excitement about Neonatal Nurses Day with your fellow colleagues! Visit NANN's Cafe Press store to order your National Neonatal Nurses Day memorabilia.