Board Update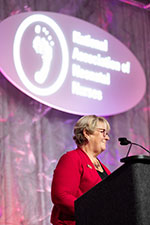 Joan Rikli, MBA MSN RN NE-BC CPNP-PC
NANN President
We're now more than 6 months into the pandemic, and its effects continue to ripple through our units, homes, and lives. Although we're learning more about the virus and making progress toward therapeutics and vaccines, it's clear now that we'll be in this state for longer than anyone expected. Like so many of you, I yearn for prepandemic times, look forward to many parts of life returning to normal, and for other things, finding a better, new normal. Please know that NANN remains committed to continuing to offer encouragement, uplifting stories, and solutions to help during these times. Community is who we are, and NANN is here for you.
Earlier this summer, NANN released a statement on racial injustice. At the same time, the Board of Directors began the important work of setting a strategic agenda related to racial and health disparities in the NICU. We believe all patients, families, and healthcare workers deserve equal treatment and access to care, and we have committed NANN to ensuring neonatal nurses have the resources and training to make these disparities a thing of the past. We've joined forces with a consultant to help us assess our needs and plan our strategic work, and I look forward to sharing updates with you in the coming months on our progress in this area.
One of the biggest changes for NANN during the last 6 months has been our transformation from offering an onsite annual conference to hosting NANN Virtual this October 21–23, 2020. I hope you're already making plans to attend and that you'll be able to take advantage of the more than 40 CNE hours available during the conference and on demand through March 1, 2021. This is the most affordable and convenient way to experience a NANN conference, and I look forward to seeing each of you there virtually.
Stay tuned to NANN communications for updates on the conference, tips for making the most of your experience, updates related to COVID-19, and the latest news regarding our work to eliminate health disparities in the NICU. We're always here to help or learn about your needs, so please reach out to us at info@nann.org any time.
We've been on this road for a while, and we still have a way to go, but I know we can do it together. Thank you all for hanging in there and taking good care of yourselves, your patients, and your peers. Be sure to visit our Neonatal Nurses Week Gratitude Gallery or read a few NANN Footprints from the NICU articles on days you need a little extra inspiration.
Stay well and take good care.
Our Sponsor