Congratulations to Malissa McGillivray, winner of the 2016 Brighter Tomorrow Story Contest! Malissa's story was titled "Carrying a Life and Saving a Life; Our Job is Everything but Ordinary."
Carrying a Life and Saving a Life; Our Job is Everything but Ordinary
Malissa McGillivray, RN
Regina, Saskatchewan, Canada
Never have I attended a delivery without a pit in my stomach, for that certain fear every NICU nurse carries to each delivery – the unknown. This delivery was more personally concerning. I was 27 weeks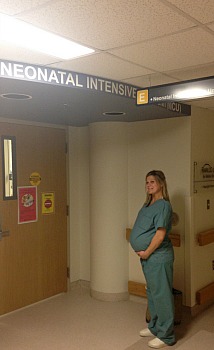 pregnant, the same gestation as the baby to be delivered. I can recall every moment like it was yesterday.

We were short staffed and the call came in for a stat c-section. With very few details, I was told to go. What I wasn't expecting was to be apart of the delivery team for a 13-week premature baby that was actually the same gestation as mine. My face lost its color, I felt nauseous and somehow I thought my stomach had grown immediately. I urgently called for backup, but in less than 1 minute this tiny helpless baby was lying on our open care bed. As we were trying to resuscitate her lifeless body, my mind was racing between what was in front of me, and what I could feel inside of me. I kept reminding myself that I have attended these deliveries before, but the relevance of seeing the baby outside the womb at the same gestation of mine was leaving me distressed.
The combination of heightened trauma, rapid medical interventions and the added hormones I carried left me emotionally shattered and physically fatigued. But it was this case that sharply tuned the love I have for my job: carrying a life and saving a life. In sync a foot kicked my rib cage and a little hand opened wide in the isolette. The baby inside me lay cozy and warm on the walls of my tummy and the lifeless baby before me began to move. I worked quickly and intuitively to create my little patient's new house with a temperature and humidity controlled isolette, and a blanket overtop to resemble the womb. In our jobs we regularly see the beginning of life, but it was this personal connection in this situation that bluntly reminded me of the critical importance in my job of saving every baby's life and everything we do, like creating a new home is critical in protecting the beginning of their lives.

My professional and personal growth collided at this delivery. The more I work, the more I understand that our job is everything but ordinary. Brighter tomorrows are always possible with research, technology and training but they are also undoubtedly pursued when it is relative. I knew that it was critical to create a home for this baby as I would my own. Together as a team we worked tirelessly to make a brighter tomorrow for this baby, this family. As NICU nurses we use what we have and it makes us stronger, wiser and more intuitive. Thanks to all efforts, each delivery is an attempt to bring brighter tomorrows not only for the patients, but for us as nurses and parents.
Read the other contest entries