Brighter Tomorrows Story Contest 2016 Award Recipient
Carrying a Life and Saving a Life; Our Job is Everything but Ordinary
Malissa McGillivray, RN
Regina, Saskatchewan, Canada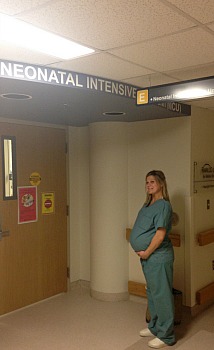 Never have I attended a delivery without a pit in my stomach, for that certain fear every NICU nurse carries to each delivery – the unknown. This delivery was more personally concerning. I was 27 weeks pregnant, the same gestation as the baby to be delivered. I can recall every moment like it was yesterday.
We were short staffed and the call came in for a stat c-section. With very few details, I was told to go. What I wasn't expecting was to be apart of the delivery team for a 13-week premature baby that was actually the same gestation as mine. My face lost its color, I felt nauseous and somehow I thought my stomach had grown immediately. I urgently called for backup, but in less than 1 minute this tiny helpless baby was lying on our open care bed. As we were trying to resuscitate her lifeless body, my mind was racing between what was in front of me, and what I could feel inside of me. I kept reminding myself that I have attended these deliveries before, but the relevance of seeing the baby outside the womb at the same gestation of mine was leaving me distressed.
The combination of heightened trauma, rapid medical interventions and the added hormones I carried left me emotionally shattered and physically fatigued. But it was this case that sharply tuned the love I have for my job: carrying a life and saving a life. In sync a foot kicked my rib cage and a little hand opened wide in the isolette. The baby inside me lay cozy and warm on the walls of my tummy and the lifeless baby before me began to move. I worked quickly and intuitively to create my little patient's new house with a temperature and humidity controlled isolette, and a blanket overtop to resemble the womb. In our jobs we regularly see the beginning of life, but it was this personal connection in this situation that bluntly reminded me of the critical importance in my job of saving every baby's life and everything we do, like creating a new home is critical in protecting the beginning of their lives.
My professional and personal growth collided at this delivery. The more I work, the more I understand that our job is everything but ordinary. Brighter tomorrows are always possible with research, technology and training but they are also undoubtedly pursued when it is relative. I knew that it was critical to create a home for this baby as I would my own. Together as a team we worked tirelessly to make a brighter tomorrow for this baby, this family. As NICU nurses we use what we have and it makes us stronger, wiser and more intuitive. Thanks to all efforts, each delivery is an attempt to bring brighter tomorrows not only for the patients, but for us as nurses and parents.
Read the other contest entries

Going Home!
Linda Black, RN
Rady Children's Hospital
San Diego, CA
The time goes on, the minutes tick by, The silence is deafening as the mother does cry, The weight of her tiny infant's body in arms, The stopping of all the dreaded alarms. The questions come fast and furious now, Why us, why now, they ask with furrowed brow. No answer to be heard just silence and a prayer, As mother hugs child with sorrow hard to bear. The nurse in the corner feels tears leave her eyes, She cannot stop them coming although she really tries. She walks to the family and they stand side by side, In grief giving strength and becoming unified. The look of pure peace shines from a small face, As the last breath escapes for this earthly place. The reality settles in and shock can be felt, As this young family pray on knees that are knelt. For a time that is immeasurable they all stay that way, They remember the times of a better yesterday. Exchanging little things that the infant did do, Precious are the memories although they are few. Joining hands we bathe and respect this little one, Knowing that he will never get to see the sky or sun. Wrapped in a blanket soft as clouds above, Showing with respect the depth of parental love. Peace starts to embrace the room all around, A calm understanding for the family is found, The suffering and struggles of their child are now gone, Their healing will start with tomorrows new dawn. Goodbye hugs, and words of thanks while tears roll down our face, Hoping that they may never enter back into this place. Time to leave arm in arm they walk silently away, Knowing that our lives are changed forever on this day. Our final walk holding him close I treat him like a son, Describing all the things I see the sky, the trees the sun. In final moments I talk out loud letting him know he's not alone, As I carry him to his resting place before he heads on home. In depth of night I think of him and all that we went through, I give praise and thanks for what I learned and new things I will do. My life is altered because of him his impact was immense, The love he left within in our hearts truly is intense.
Why I Do What I Do!
Linda Black, RN
Rady Children's Hospital
San Diego, CA
On a cold rainy night in a quiet corner of a busy Hospital a powerful, breath-taking healing event was taking place. Nurses leaving for the night had no idea as they bustled out the door running and laughing in the rain. Parents leaving for the night were oblivious to the event as they walked slowly out the doors a weight of worry on their slumped shoulders. It was just a normal night in the life of the Hospital. However, for two parents and a nurse this was the start of a powerful healing journey. You see the parents had just lost their young infant a week before, the last time they had been inside the walls of the hospital was to say goodbye to their only child. The last time they had walked out the doors they had done so with overwhelming grief and an indescribable sense of loss. Yet tonight they had mustered up the courage and strength to come back through those doors! They had driven for over an hour in the pouring rain to come and say a final good bye .. a goodbye to their infants nurse! The small group sat and chatted quietly with each other, sharing memories of the little one while she was alive, sharing the stories of her funeral, memorial and family. They were taking comfort in the familiarity that only a close bond during the end of a life can bring. There were many tears and an abundance of hugs and even minutes of silence as they held hands and just took comfort in being there! The mother spoke no English and the Nurse spoke no Spanish so the father translated. Even with the extreme language difficulties the universal language of compassion, care and love was felt and embraced. The mother had carefully written a letter in Spanish and she read it to the nurse in her native tongue while the dad then translated it. The tears were fully flowing down the nurse's face as she felt and heard the mother's heartfelt gratitude for all the small things the she had done to comfort their sick child during her final days. After a time the visit had to come to an end and with reluctance they all walked out the doors of the hospital into the pouring rain. As they walked slowly to the parking structure the mother placed her hand in the nurses and they walked in peaceful silence. This was the start of their journey to healing. This is why I do what I do … even in the face of death I can give comfort and care. I can give meaning to an infant's short life and I can protect memories keeping them safe for families. I can ensure that the families know that every second of their infant's life was precious. In death there is great pain but there is also joy in being there to share, to care, to love and remember.
Faith, Hope, & NEC
Amanda Bloomfield, RNC-NIC BSN
Have you ever just looked at someone and had a moment of deep understanding? Have you gotten the pleading, anguishing and trusting look from another parent? The look that says "I'm helpless here, take control and save my baby". The night I got this look from a father changed my whole career and sent me soaring into my "mission" as a NICU nurse. Necrotizing enterocolitis are two nasty words. NEC takes all that certainty of our training and shreds it into tiny pieces that float above you- dropping down at random times like ticking bombs. I remember the night like it was yesterday, in reality it was over three years ago. Starting my shift I was due to be in charge, but as I walked down the hall and took one look at Reid and his worried, tired parents and nurse, I realized my plans needed to change. They needed me, a familiar face. Reid and Connor- twin baby boys, one with hair as red as a fire engine and one with golden as the sun. Connor was doing amazing. Reid had been on NEC "watch" all week, getting serial x-rays and daily labs. All the parents could be told is that we were doing everything we could for Reid and the hope was that his symptoms would clear up soon. This night was the turning point for Reid-O (my nickname for the little man). The turn that took him through a journey of a real sword fight of life and death with NEC. One brady came and Reid didn't recover, whisking him out of his isolette I prepared to intervene. With the family in the room and no time to ask them to leave, they witnessed the bagging and intubation of their tiny guy. That is the moment the "look" took place, the look passed from the father to me. As I gazed at him, tears began to fall. OH NO unprofessional, right? A sign of weakness? A calmness washed over me, for me it was my Lord reassuring me that he will bring me through this, calming me so that I can do what I was trained to do. For the father and mother, the tears meant that I cared and that I was going to do everything in my power for their precious boy. That shift lasted forever. The precious miraculous boy with golden hair beat NEC eventually and lives with the many challenges of short gut. That night lives forever in my mind. It was then I realized what being a NICU nurse really meant to me. Reid's parents, who now are my friends, think I impacted them- when actually they (and Reid) have forever changed me. Being a NICU RN is a true calling that isn't always glamorous. A field where life hangs in the balance and sometimes you can fix things, but sometimes you can't. A mission where you rely on your training, faith, and hope.
Joanna Gabb
"When I close my eyes, I see yours: The biggest beautiful eyes I've ever seen. Those eyes could make a lady swoon. In fact, I'm pretty sure they did. You had eyelashes that every woman envied, fanning your cheeks each time you blinked. There wasn't a single heart that wasn't moved when they saw you. For we each saw the immense value that you held. Oh, precious little one. 6 months may seem like a small span of time, But 6 months is all it took for a lasting impact to be made. When I started nursing, I didn't think I'd meet anyone like you. Now that I've known you, I can't imagine life without you. The hugs and the snuggles. The way our unit loved you as one of our own. We somehow created our own family, with lots of mommies to give you love. You were ours. And now you're His. Oh, lovely little one. When I think of you now, I don't see you suffering. I see you laughing and cooing. Those little hands moving as you learn patty cake. Radiant and rosy. Happy and loved. There's nothing I wouldn't do to kiss your sweet face. But I know He's kissing you. And how desperately I want to hold you in my arms. But I know that He's holding you in His arms forever. I don't want to be selfish with you, for you were never selfish with us. You gave so much to us, more than you'll ever know. We are not just stronger nurses because of you. We are stronger people because of you. And when that fateful day comes, and you take my hand to lead me around. I know He'll be holding your other hand. Because He loves you more than any of us ever could. And all your "mommies" will see those big beautiful eyes once more. We love you, little one. He loves you, little one."
Never Give Up
Debra Jones
My journey began at 29 weeks gestation. The comfort of living in my Mommy's womb has ended. I had to escape because the warm fluid is now gone. I tunnel my way through the canal and emerge into life. My first contact with my new world is the gentle stroke of Mommy's finger across my cheek. I hear her sobs of fear and am comforted by her familiar voice pleading for me to breathe. I'm gasping to take those breaths when I recognize my four year old brother's voice saying "ah Mommy, you had your baby." I hear other voices as my connection to Mommy is tied with a shoe string and cut with a steak knife. I'm placed in a plastic bag and a mask bigger than my head is placed over my face. At the hospital the mask is replaced with a nasal cannula, a pulse oximeter is on my right hand, an IV is infusing through my belly button and sticky leads connect me to a monitor. I am taken to the NICU and placed in a warm box which is now my home. After two days of struggling to breathe on my own, I'm worn out. I can't do this by myself anymore. CODE. The piercing alarms are bellowing. A straw is placed down my throat. Someone is pushing on my chest. I receive medicine through my belly IV. This not what I thought life was going to offer me. I feel the panic as Mommy and Daddy stroke me saying "I love you". I have rumbling in my belly and finally I get to eat. Another tube is placed down my nose and Mommy's milk drips into my stomach. It's not much, but at least now maybe I can grow. My birth weight was all of 1211g. As the days go by my meals are slowly increased. Catastrophe strikes again. My belly blows up. I am dusky. CODE. NEC. What is this? Another challenge I endure for making my way into life too early. Does anyone understand? I'm trying to abide by the rules, however, the course is a tough one. Antibiotics and no food for three weeks. The price I have to pay for wanting to grow. My weight has diminished to 868g. The good news is I'm extubated and breathe with the help of a nasal cannula. I have a PICC line now and won't have to be stuck for an IV as my fragile veins are limited in number. Finally, my birthday has arrived and I get to go home. This is me, ALEXIS, and this was my journey into life. I want to thank my NICU nurses who never left my side. They have been my backbone every day until Mommy and Daddy got here. I have endured this journey with one tiny foot in front of the other. But most of all I have learned a lesson in survival: NEVER GIVE UP.
A Brighter Tomorrow for Newborns in Uganda…
Ellen-Marie Milan RNC-NIC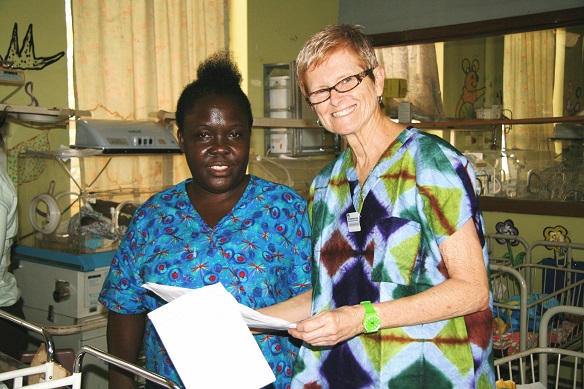 I am a NICU nurse and volunteer with Health Volunteers Overseas. I am currently in Uganda writing about an exceptional "neonatal nurse" that I've had the privilege to teach and work with since 2002, Damalie Mwogererwa URM (Uganda Registered Midwife). Damalie is one of 13 children; her mother's dream was that one of her children becomes a midwife, a respected profession. Damalie fulfilled that dream. Her siblings cut and processed sugar cane to help pay for her education. She graduated from Mulago Hospital School of Nursing and Midwifery in 1998. Her early years as a midwife were fraught with the challenges of delivering babies who were in need of resuscitation; not knowing that is was possible to bring life to the apparent lifeless, not having the knowledge, skills or equipment. She felt like she was just "delivering babies to die". Neonatal mortality in Uganda at that time was 34/1,000 live births per the World Bank Data. Damalie accepted a position as a midwife in Mulago, Uganda's National Referral Hospital, in 2002. Shortly after her arrival she was assigned to the Special Care Baby Unit, she cried. She felt she was being punished, she knew nothing about caring for sick and premature newborns. I met Damalie shortly after that; she was a quiet and serious presence. She embraced the knowledge and expertise we (volunteers) shared, she "picked" our brains constantly, she made sure she understood completely. Her knowledge, confidence, compassion and love for the ones that she had once feared is evident in her daily practice. Damalie works in less than ideal conditions with grossly inadequate staffing, high patient numbers, limited resources and technology. Today the average daily census in Mulago's SCBU is upwards of 80 to 100 with a staff of 23 covering 24/7. Damalie's salary is 700,000 Uganda shillings a month (before taxes)… that's $212. Sometimes they are not paid because "there is no money". She has never had a raise. Imagine. Despite the challenges she and her colleagues face, Damalie approaches each day with optimism for better outcomes for the newborns of Uganda. Damalie has shared her knowledge and expertise with programs sponsored by Save the Children's Saving Newborn Lives and is currently active in Uganda's Helping Babies Breathe Plus Program. Damalie also identifies teaching needs in other healthcare facilities, at times conducting training without compensation. I've taught side-by-side with her many times over the years, she is a wonderful outgoing and engaging teacher, no longer quiet and serious. She exudes enthusiasm for the cause of decreasing neonatal mortality and morbidity in the SCBU and in her country. Though trained as a midwife, I count Damalie as one of the most dedicated neonatal nurses I've known. Neonatal mortality in Uganda has dropped to 19/1,000 live births in 2015. I believe that Damalie has contributed significantly to this statistic. I am privileged to call her a colleague and a friend.