APRN Summit
For neonatal content tailored specifically for the advanced practice nurse, look no further than NANN's APRN Summit.
Attendees will enjoy a half-day session that identifies solutions to national issues unique to APRN's, addresses practical ways to improve skills through perinatal palliative care, examines lessons learned from failures in neonatology, and shares best practices in distance learning.
Learning Objectives:
1. Identify national solutions to issues unique to neonatal APRNs.
2. Discuss practical ways to improve neonatal advanced practice nursing by addressing how to offer ethical care for infants with Trisomy 18, best practices for attaining quality indicators for distant learning environments, and lessons learned from failures in neonatology.
Keynote Address
Changing the Way We Educate: Workforce Expectations and Evolving Healthcare Systems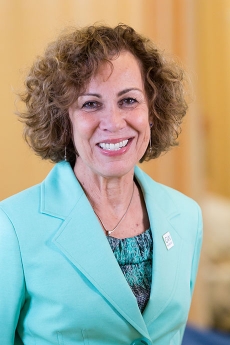 Pamela R. Jefferies, PhD RN FAAN ANEF
Professor and Dean of George Washington University School of Nursing
This presentation focuses on different teaching modalities which have altered the way we educate new graduates using experiential learning and immersion in clinical simulations. Evidence will be provided on best practices in clinical simulations with implications being discussed for meeting the needs of a dynamic healthcare landscape and workforce. Changes in clinical education will be presented along with implications for policy guidelines.
Pamela R. Jeffries, PhD, RN, FAAN, ANEF, Professor and Dean of George Washington University School of Nursing, is internationally known for her research and work in nursing, simulation and health care education. Throughout the academic community, she is well regarded for her scholarly contributions to the development of innovative teaching strategies, experiential learning techniques, new pedagogies and the delivery of content using technology.
As the principle investigator on grants funded by federal and state agencies and numerous national organizations, including the National League for Nursing (NLN) and the National Council of State Boards of Nursing, she has provided leadership and mentorship on ground-breaking projects impacting both nursing practice and education. With the NLN, Dr. Jeffries developed the major contribution to simulation scholarship, the framework and monograph now known as the NLN Jeffries Simulation Theory.
She is a sought-after keynote speaker and delivers nationally and internationally presentations on nursing leadership and her research. Throughout her career, she has shared her expertise in clinical education, simulations and other emerging technologies as a consultant to health care organizations, corporations and publishers. Her numerous publications cover a wide-range of topics pertinent to nursing education, clinical simulations and health care policy.
Breakout Session: Clinical Track
Hot Topics in Neonatology and what is New in the Literature: Does my Practice Need to Change?
Robert Ursprung, MD MMSc
Director of HRO/Patient Safety for Women & Children's Services: Mednax
Neonatologist: Cook Children's Medical Center
Learning objectives:
Review controversial topics in Neonatology.
Review important papers from recent years.
Discuss how to assess your current practice and whether or not changes are needed.